Performance Review: A Midsummer Night's Dream (Stratford, Ontario – 2014)
By Roderick H. McKeown and Sarah Star
In Stratford's 2014 staging of A Midsummer Night's Dream, director Christopher Abraham's stated intent to "forge a sense of family and community as central to the play's setting, and for this community to be inclusive, varied and diverse" is apparent from the outset, shaping an unusually conceptually sophisticated production. This ranges from minor touches, like making Egeus (Michael Spencer-Davis) deaf, speaking in sign through an interpreter, to the overarching framing conceit: this Dream is a wedding entertainment mounted after a backyard wedding ceremony. The players are a troupe of actors, celebrating the marriage of two actors in the company – and that's not a gender-neutral noun, as we mean two male actors. Abraham's production is lent emotional immediacy by the coincidental recent rulings in a number of American jurisdictions striking down bans on same-sex unions; those rulings were not in the headlines when rehearsals began. The play within the play draws upon the currency of love not legally sanctioned.
The Festival Theatre was decorated throughout as for a wedding, with white bows on the end of every row of seats. The cast mingled freely with the audience, some of whom were actually led to believe that they were attending a special, celebratory performance. The actors ad-libbed freely, asking patrons how far they had come for the ceremony, and whose side of the aisle they were on, and offering tissues. When we jokingly, knowingly, stated we were with the groom, we were corrected, and informed there were two grooms. The "newlyweds" were then led in blindfolded, prefiguring the confusions in the forest.
The most prominent directorial decision that follows on from this frame is the cross-casting of both Lysander (Tara Rosling) and Titania. Casting Hermia and Lysander as two women pleading for their love to be recognized translates Shakespeare's slightly improbable legal scenario into a modern idiom. Many of Lysander's lines – telling Demetrius "Do you marry him" – take on wonderfully ironic meaning. Conversely, Hermia's contempt for "all the vows that ever men have broke" becomes a celebration of lesbian constancy. The patriarchal dynamic that underwrites Demetrius' claim to Hermia is all the more evident, as this production highlights more than most the brute power of the state to enforce heterosexual norms. Egeus' deafness to his daughter's arguments is symbolic –and it also has the effect of forcing Hermia (Bethany Jillard) to speak her own sentence, translating her father's furious signs for the onstage audience. The silently watching Hippolyta's (Maev Beaty) uneasy relationship with Theseus (Scott Wentworth) is rendered more obviously tense and coercive; she is attended by armed Amazons, and her surrender seems at best conditional, and tested by this display of patriarchal dominance. This made wonderful sense of her conversation with Theseus on the hunt, as her references to Hercules become intentional goading, a deliberately cruel reference to a demi-god former lover. Wentworth's assurance that his hounds are bred "of the Athenian kind" is an insecure lover offering what he knows is second best.
The ending of the lovers' plot is carefully staged to acknowledge and resolve those tensions. Wentworth performs his reversal of the law as a placatory gift to his future queen, and matched word with gesture, offering each couple a flower, and, tentatively, one to Hippolyta. It is, in effect, another proposal of marriage that he is relieved she accepts.
The other reconciled couple are equally strikingly played. It's a gay wedding, and it wouldn't be a gay wedding without a healthy dose of camp. Filling those shoes – we couldn't tell if they were pumps or slingbacks – on alternate nights are Evan Buliung (Titania at the performance we attended) and Jonathan Goad. Titania is emphatically the fairy queen. She sings falsetto. She dances. She ad-libs lines that reflect the cross-casting of the play and the sexuality the grooms in the frame. In short, she is a one-woman assault on heteronormativity and predictability, occupying in many ways the role usually played by Puck (Chick Reid, somewhat sidelined in this production). At once stately and mischievous, and feminine while deconstructing femininity, Buliung's performance, too, lent urgency and intellectual depth to the production. This is a fairy queen who can be maternal and self-consciously feminine, and then chest-bump her husband. We invite readers who saw Goad – a splendidly butch and sardonic Oberon in the performance we saw – as Titania to send us comments for inclusion in an updated review.
Goad's Oberon is above all the purveyor of magic in the play, and the production walked a fine line between playing the magic for real and acknowledging the theatricality of the event. The lovers in the grip of the love potion responded physically to Oberon's gestures, heads and feet raised off the ground, clearly in the throes of enchantment. But such moments were also played for laughs, as Goad sadistically held Demetrius in that difficult position – clawing for support at Goad's belt – with a gleeful "Nice abs!" Further magical effects were achieved by the liberal use of child labour to whack the lovers with branches, none too gently guiding their steps through the fog of the forest. As the lovers succumbed to exhaustion they were literally weighed down by their young cast-mates – Demetrius complaining as he was overcome "I still have lines!"
The presence of the children – perhaps necessarily – meant that the production pulled some of its punches. When Titania's guard (played by a child) is overcome by Puck's blow dart, the fainting child was caught by an adult cast member. Similarly, the interlude between Bottom (an oddly subdued Stephen Ouimette) and Titania becomes all innocence – a conceptually questionable decision for a production that otherwise pushes the envelope on gender norms. The opposite effect was achieved by having the Changeling a physical presence, tenderly held by Titania (who covered his ears when speaking of his mother's death), and rather abstractedly won by Oberon. This was a real emotional defeat, even if Titania exits seeming to promise that the subject is not closed.
The presence of child actors also led to occasional breaking of the frame. To have fairies sing Bruno Mars' "Grenade" after Helena has been dismissed by Demetrius might make some sense; to have children sing a song of unrequited love at a wedding is – we would hope – improbable. Another song, too, tested the flexibility of the frame to the breaking point. After Pyramus and Thisbe, interrupted in this staging by an increasingly intoxicated Hippolyta – Bottom leads the cast in a frame-breaking rendition of New Order's "Bizarre Love Triangle." In and of itself, this is no problem. But Wentworth then ends the raucous music as the host at a suburban wedding, warning the guests that "I have neighbours!" This, unfortunately, comes before the fairies' magical blessing of the three – sorry, with the grooms four – marriage beds. Rather than being a commentary on magic bleeding into the mundane, the ending seems confusing and confused.
The newspaper reviews have ranged from the stellar (Nestruck in The Globe and Mail) to the witheringly dismissive (Ouzounian in the Star) and everything in between (Cushman in the Post). For some, it's a matter of taste; pop music intervals in Shakespeare are not everyone's cup of tea. Abraham's staging has a lot going on, and perhaps it's difficult to keep so many plates in the air without breaking one or two. But the diversity that he places front and centre in his conception of the show necessarily means an eclectic mix, and his queer sensibility in approaching the frame means it would be frankly disappointing if some sensibilities were not offended. The aesthetics of queer protest draw on carnivalesque displays of bad taste and "the riot of the tipsy bacchanals" is not out of place in such a context. Abraham's show is here (and now) and queer – get used to it.
07:21:18 pm. Categories:
Stage Performances
Midsummer Night's Dream (Theatre for a New Audience / Julie Taymor, New York)
[Editor's note: This review was first published on Dispositio on 2014-01-04. We have Dr. Syme's kind permission to republish it here.]
Visually, this is a stunning production. The Polonsky Shakespeare Center, opened this season, is a remarkable space — a broad and deep thrust four stories high, configurable with all sorts of trap doors and hydraulic elements, and Julie Taymor, unsurprisingly, makes highly effective and imaginative use of all these features. The central element in the show is a vast sheet of silk large enough to cover the entire stage: it first appears as the bedsheets of a tiny bed in which a figure we'll soon recognize as Puck (remarkable: Kathryn Hunter) is sleeping, unfolds from the bed to become a balloon of sorts on which the bed is carried up and away, then winds up as a kind of baldachin over the stage, and then proceeds to twist, fold, and billow, birthing Titania for her entrance, ripping open to let Puck back in, and serving as a projection screen time and time again.
There is something deliciously theatrical in how this piece of fabric works. The effects are always impressive, but they're explicitly effects: the sheet suggests magic, it implies representation, but it also remains visible as a sheet, a huge prop manipulated by stage hands and ensemble members present on stage, visibly handling ropes and carabiner hooks. Sometimes, it's characters doing the handling: a running gag is that Flute is too short to catch ropes flown down to hook onto things and always needs help from Snug (who is gigantic). At one point, Puck elaborately hooks herself into a harness while talking to Oberon. A forest of staves that function mostly as sort-of magical trees are very obviously manipulated from below by on-stage figures, or from above by very noticeable ropes. And the production can get quite clever with this metatheatricality. Oberon's reaction to discovering that Puck has love-juiced the wrong Athenian and has turned a true love false (whatever that may mean) finds its angry expression through a lighting change and an orchestrated stamping of all the twenty-odd staves on stage; Puck responds with gentle mockery by banging just one stave, with her hand. The sound is the same (if less loud); the gesture is pretty much the same (except it's Puck's hand moving the stave, not those of visible and invisible helpers). But the effect is completely different: when Oberon "makes" all the staves move and "makes" the light change, the gesture "means" magic; when Puck does it, it doesn't. What the scene draws attention to, though, is the fact that this is not an essential, inherent difference. In both cases, a bunch of human hands stamp a bunch of wooden sticks on the stage floor, but Oberon's magic (and Puck's lack thereof) entirely depend on an audience's swift decision to understand one of those gestures as "magical" and the other as something else, something less impressive.
So that's all very smart, and actually quite Shakespearean (if in a rather un-Shakespearean medium). And Taymor certainly has a remarkable eye for captivating stage images — the kind of moment ideally suited for a production still. Whether it's the opening image after the intermission, when the sheet covers the stage, and all the staves form a kind of stylized birch forest for Oberon to wander in, a solitary dark figure in a space as white as Peter Brook's famous white box set for his RSC Dream (David Harewood is playing the Fairy King topless, with gold stripes across his chest and in what looked like very dark body makeup); or the haunting image of a solitary child standing all the way downstage wearing a cardboard dog's head, which when removed revealed cascades of long, very blond hair; or the hilarious moment when Hermia, in her underwear, finds herself caught between Lysander and Demetrius's crotches at the very moment when they both have rejected her as an object of erotic desire; or even just the small house upstage that, with its stylized neoclassicist facade, identifies scenes as taking place in Athens, and which before Puck's final sweeping scene stands, framed by the sheet draped from the fly, against an iridescent indigo backdrop, with all of its five windows lit — all of which go out one by one as the couples turn off their lights.
And yet, although I enjoyed this production, I wasn't exactly blown away. Despite the impressive visuals, much of the show seemed, visually, like a watered-down version of what Robert Wilson might have done. The colour scheme reminded me of Wilson, and Puck's make-up in particular, with spiky red hair, white-face, and strong eyebrows, could have been straight out of any of his recent Berliner Ensemble productions. In particular, I was reminded repeatedly of the Peter Pan I saw last May. That's not to say, at all, that I think Taymor is ripping Wilson off. Part of it struck me as fairly clear homage. Part of it is likely just the result of an overlap in their aesthetics. What Taymor adds to the equation in a more overt way than Wilson, and what I appreciated about her take on this kind of aesthetic, is the foregrounded theatricality, the very ostentatious made-ness of her stage images. Wilson, for all his anti-realist program, tends to obscure the mechanics of scenes more, leaning towards a more impervious surface, and as a consequence can easily get glib or facile. I think Taymor's approach is more interesting.
That said, if there's a similarity between her aesthetics and Wilson's, they have nothing whatsoever in common in their approach to the text. One of the Berliner Ensemble dramaturge's told me last year that "Do we really need that line? Let's cut it!" is the constant refrain of Wilson's rehearsal work. Taymor's Dream, on the other hand, is textually faithful to a fault — a few lines have been cut, but the play basically proceeds "as it was written" (as they say). Puck gets a few opportunities to ad-lib (including a glorious parody of Bottom), and stands in for Philostrate, Theseus's Master of the Revels (delivering the part in what sounded to me delightfully like a parody of Mark Rylance), but other than that, little work seems to have gone into crafting a performance script for the show. And that points to this Dream's signal shortcoming: it's a visually inspiring production that takes a deeply uninspiring approach to the play.
My heart sank early on, when, after the gorgeous opening with the disappearing bed and a brilliantly choreographed chaotic staging of the preparations for Theseus and Hippolyta's wedding, the two characters come and start to speak — and the show switched from a mode of unpredictable creativity to the dull and utterly conventional sound and look of Anglo-American Shakespeare. Verse was dispatched, more or less competently, in various accents, some fake RP, some actual English ones, some mid-Atlantic inflections (not that I care, but it's perhaps worth noting); some verse speakers signalled their investment in psychology by pausing and showing us that thought was happening, though not necessarily at moments when those pauses made sense or when the thinking seemed supported by what they were saying; Shakespeare was being served. I suspect all the actors more or less knew what they were saying, but nothing was happening on stage that suggested that Taymor had any interest in what was being said — let alone in what was being left unsaid.
For all the creative investment in the visual aspects of this show, at its heart is a rather stunning absence of any kind of serious interpretative investment. It's perhaps indicative that the program offer no director's note of any kind — only a set of "perspectives" firmly anchored in the most commonplace and unchallenging takes on Shakespeare's play (as well as a brief biography of the author that, grump-inducingly, sees a need to "acknowledg[e] that there are and have been prominent individuals who continue to question whether the man from Stratford known as William Shakespeare wrote the plays attributed to him," a note to which a hearty WTF seems the mildest possible response). In German reviews, Taymor's production would be described as "attitude-free." The phrase would not be a compliment. The show creates an atmosphere — an overall oneiric quality, a suggestion that the entire play, as Puck says, may as well just be a dream. But while that's pretty, and pleasing, I do also wonder what it would mean. If the opening image of Puck in his bed is indeed meant to suggest that what unfolds over the three following hours is "just" a dream, then Taymor, rather oddly, appears to anticipate Puck's concluding negative scenario: that the shadows will offend, and that this offence needs to be forestalled by framing the entire show overtly as a dream, as unreal. (Remember that Puck's notion of the play as a dream is intended to "mend" the offence the actors may have caused.) But why assume that? And if that's not the point, what then is gained, or suggested, or implied, by casting the entire play as a dream? (Yes, I know that's what it's called. I've never really quite figured out why. I would expect a director to at least try.)
Midsummer Night's Dream is an extraordinarily rich text. Taymor gives it an extraordinarily rich visual treatment, but that imagistic riches hardly intersects with the textual. There is darkness in some of the visuals, but the nature of that darkness remains obscure — it certainly doesn't illuminate, or displace, or really engage at all in any way, deconstructively or constructively, with the text. Instead, the script seems to be accepted as a given: those are the words, this is how they're supposed to be said, don't mess with them. These are the pictures: let's get creative with them! By the same token, I couldn't help but notice a contrast between the precision of the effects and a relative lack of such precision in the acting, where big moment after big moment wasn't allowed its due weight or didn't hit home with sufficient force. This is not the actors' fault. It's a question of directorial priorities. (Then again, Kathryn Hunter managed to make her scenes about the performance, even about the character; I don't know what that says.) Taymor just doesn't seem all that interested in engaging with the text, or undercutting it (not that that isn't a form of engagement). For instance, I was delighted to see a Helena who not only, FOR ONCE, didn't tower over Hermia, but who was also cast against the text's apparent intent: Hermia is repeatedly troped as darker than Helena in the play, but here, a very English, very blond Hermia is coupled with an Afrian-American Helena perhaps an inch taller than her "dwarfish" friend. The pay-off in the production? Sadly, zero. Lysander's line about leaving a raven for a dove is thrown away; and Helena throughout walks on much higher heels than Hermia. This may be another clever instance of foregrounding stage reality as an effect achieved by mechanical means, but if so, it comes at the cost of throwing away a chance to complicate Hermia's obsession with her own supposed shortness. In other words, more often than not, when the production comes face to face with a chance of letting what's on stage interact with what's on the page, it simply ignores those opportunities.
The consequence of this oddly (though, in an Anglo-American context, hardly uniquely) schizophrenic enterprise is that the wonderful and the trite live unhappily side by side: there's Bottom's ass's head, a technical marvel and a spectacularly creepy image, basically a human nose and mouth at the end of a long donkey's nose, fully mobile, operated by two levers that the actor (visibly) manipulates as he speaks. I loved everything about that: it was the most realistic and the most theatrical translation of Bottom-into-Ass I've ever seen (and again, very clever: Bottom's face and the ass's are a hybrid, because Bottom is, of course, already an ass. And the theatricality of having the actor visibly manipulate his own character's face was of a piece with the production's general approach to its stage magic, so yay for that too). But Bottom's performance was a pretty bog standard interpretation of the role, with a New Jersey (I think!) inflection on the standard issue model, but without any especially interesting choices or moments. (By contrast, last summer's Globe production in London was utterly unremarkable as a production, but featured, in Pearce Quigley, an actor who made interesting choice after interesting choice, essentially reinventing Bottom from scratch.) Perhaps I was just in an uncommonly curmudgeonly mood, but Taymor's take on "Pyramus and Thisbe" struck me as one of the least riotous, least creative, and also least funny versions of that scene I've ever seen — and I used to think it was a pretty indestructible vehicle for comedy.
So, in the end, I found this a very unsatisfying production, but also one that seems to me helpfully illustrative of the problem of mainstream Shakespeare in English, perhaps especially in North America. Whatever desire there is for theatrical creativity, for directorial inventiveness, for finding and pursuing an angle of some sort always, it appears, needs to focus on design — it cannot express itself, or work itself out, dramaturgically. The sanctity of the text is such that it leaves directors and actors hampered — a limitation that is more, rather than less, apparent in productions directed by artists as inventive as Julie Taymor, because the contrast between the creative spirit evident in the design and the choreography on the one hand and the uninspiring, painting-by-numbers approach to the text on the other hand is so very stark. Further confirmation, in other words, that Shakespeare has become a problem, for reasons that have nothing to do with Shakespeare.
06:31:19 am. Categories:
Stage Performances
Chapterhouse Theatre Company's Summer Production of Shakespeare's A Midsummer Night's Dream
by Brenda Liddy
July 28, 2013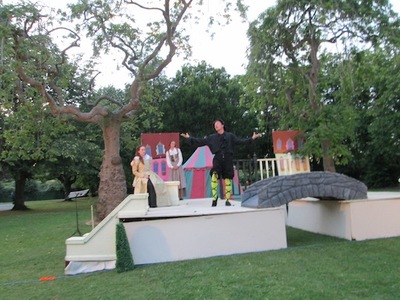 Chapterhouse Theatre Company's summer production of Shakespeare's A Midsummer Night's Dream took place at Carnfunnock Country Park, County Antrim (Northern Ireland, U.K.) on July 27, 2013. This was an open-air performance, and audience members were allowed to bring a picnic to share with family and friends. There was a marquee on the grounds as well. It was a magical experience; and as the audience enjoyed the beautiful weather and the scrumptious food, the talented players trod the boards.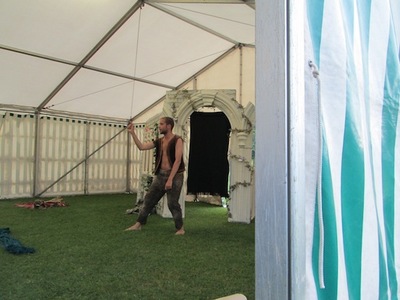 As in all in good comedies, there were three key ingredients: exposition, complication and resolution. Instead of agreeing to marry Demetrius, Hermia runs off into the woods with Lysander and is followed by Helena and Demetrius. The stage is set for an evening of frolics in forest where the mischievous Puck leads the foolish mortals up and down until the right Jack finds the right Jill, the Changeling child is given to Oberon and Quince's Rude Mechanicals put on an amazing play. At the end of the play, Demetrius comments to the lion, "Well roared, Lion," and Theseus commends Thisbe's running and Hippolyta praises the Moon's shining abilities. I would like to extol the talent of the seven actors who played twenty-one roles, from the Athenians, to the fairies, to the Rude Mechanicals.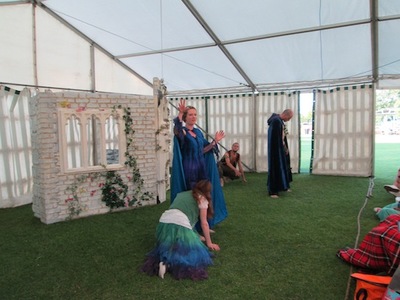 The path of true love never runs smooth, whereas this was a polished performance, a "most rare vision."
11:15:25 am. Categories:
Stage Performances
A Midsummer Night's Dream, directed by Jonathan Munby, The Globe, London, 21 May 2008
A Warning for Fair Women includes the suggestive observation on the correlation between colour and genre: "The stage is hung with black and I perceive / The auditors prepared for tragedy." Jonathan Munby's production of A Midsummer Night's Dream, designed by Mike Britton, took shape around a central contrast: black with its connotations of melancholy, mourning and formality for the court versus vibrant colour with its associations of fantasy, cheer and youth for the forest.
Presiding, ambiguously, over both was a huge, white, spherical moon suspended at roof level above the yard. Tethered on elastic, and illuminated from within, this source of watery light was buffeted up and down by the wind and served to cast indistinct and mobile shadows across the action. The court of Theseus was clearly and unhappily restrained – reflecting his opening lamentation on the delay of his and Hippolyta's nuptials. With its stage pillars shrouded in black and the upstage wall draped in a cloth of the same colour, their entirely black costumes fitted them for this setting of disconsolate sable. The blistering Egeus and the four lovers were all similarly attired and, as they discussed the real possibility that Hermia be executed unless she take her father's part, the colour (as in the quotation from A Warning) suggested the imminence of tragedy. Tom Mannion's Theseus showed real fury with Hermia's (played by Pippa Nixon) feminist intransigence so that it was entirely appropriate that Siobhan Redmond's Amazonian queen, who had earlier given permission for Hermia "to plead my thoughts" (1.1.61) with an approving nod, protectively embraced the young woman shielding her from the onslaughts of ruthless patriarchy. Her haughty exit in a different direction from Theseus' fawning "what cheer, my love?" (1.1.122), made it clear whose side she was on.
The forest outside Athens was as colourful as the court was monochrome. At the top of Act 2, the black disappeared and yielded to a vibrant and clashing palette. The fairies set large purple flowers around a blue disc on the stage floor which echoed the circularity of the moon hovering above. The black drape upstage fell to be replaced with one of diaphanous royal blue and the two arc-shaped walkways, like lunar crescents, which descended from either side of the stage down into the yard, were of the same colour. The fairies were costumed in purple, green, blue or red tutus with torn and rebelliously unkempt lace and fishnets in a post-punk refutation of courtly authority. Puck's parodic tails were turquoise- and white-striped and his hair sported a wave of greenish-blue.
It was not long before the lovers' black costumes yielded to this kaleidoscopic aesthetic. Their disrobing allowed them to reveal shirts, skirts and underwear of bright gold or green and the sexual licence of the forest was implicit in their casting off of formal attire and the exposure of legs and arms. As Helena (Laura Rogers) acted as Demetrius' "spaniel" (2.1.203) she provocatively crawled towards him on all fours and as she lamented her own uncontrollable desire, "I am sick when I look not on you" (213), she lay spread-eagled on the stage her skirts hitched indecently high revealing bare legs in a gesture of complete submission.
The sexual intensity of the forest was emphasised by the erotic presence of Redmond as Titania. (She and Mannion doubled the earthly and the fairy rulers though the fairy kingdom seemed set, vocally anyway, in Edinburgh while Theseus and Hippolyta spoke the English of Windsor Castle.) Provocatively, her bower was a cross between Salvador Dalí's red settee based on the lips of Marilyn Monroe and a large open and sexually suggestive rosebud which had something of the predatory exoticism of Audrey II, the cannibalistic plant from Little Shop of Horrors. Both the little Indian boy and the ass-headed artisan were laid across the crimson bed. As she draped herself among their limbs there was an obvious, though very dark, parallel between her apparently maternal contact with the child and her copulation with Bottom: both were objects of her consummation.
Mannion's Oberon maintained the tyrannical edge of Theseus though here his fury was directed not at a disobedient young woman but against his mischievous servant. Michael Jibson (who had earlier, fittingly, doubled as Philostrate), relished the confusions of the night and maintained a good rapport with the audience, entering through the yard and puffing his way up the ramp to present Oberon with the love-in-idleness. He and Oberon took up spectators' positions, standing on the shelves formed by the bases of the stage columns and watched the confusions of the four lovers over the rotating identities of their various love objects. There were some excellent and carefully choreographed lazzi between them – movement was by Glynn MacDonald. There was a nice touch as Puck attempted to resolve the problems by anointing the eyes of the male lovers with the magic juice. As he bent over each of them, lying on the floor, he plucked out their eyeballs on long elastic threads of red, drew them towards him, sprinkled them and then replaced them. Given that one of the other plays in this season's repertory is King Lear which contains a truly ghastly blinding of Gloucester, there was clearly a crafty nod in that direction.
Pyramus and Thisbe was played at a furious pace and was full of effective comic business. We were returned to the court by the upstage blue cloth being pulled by fairies over the heads of the cooing groundlings. This time the courtiers wore matrimonial white and the presence of the "Hard-handed men" (5.1.72) took place with the women of the onstage audience downstage left and men downstage right in an interesting revision of the convention which usually blocks them as embracing couples – the propriety of unmarried modesty which Theseus laments at the play's opening was still in evidence here.
Against this abstinence, the comic crudity of the inset play was especially effective. The "Wall's chink" (5.1.132) was Snout's spread legs which offered Flute (Peter Bankolé) a disgusted double-take on "Thy stones with lime and hair [acknowledging the proximity of his mouth and Snout's pubic hair] knit up in thee" (190). Snout (Jonathan Bond) wore only the tiniest briefs. Thisbe's subsequent kissing of "the wall's hole" (200) was preceded by Snout's turning his back on Flute so s/he kissed his anus. Paul Hunter's unusually diminutive Nick Bottom was powerfully overacted and he played his suicide as a protracted amputation of toes, fingers, genitals, arms, legs, tongue and eyes before laying on his back, his sword sticking out phallically between his legs. This allowed him to wince with terror as Flute's Thisbe clumsily pulled the weapon out on "Come, trusty sword" (338). There was a lovely detail as the arrogant Theseus condemned the entertainment's author: "if he that writ it had played Pyramus and hanged himself in Thisbe's garter it would have been a fine tragedy" (351). Theseus looked at Bottom as he said this and there was an uncomfortable silence as Bottom gestured to Peter Quince (Michael Matus) with an embarrassed shrug to indicate the playwright. Hastily attempting to cover his tracks, Theseus continued chumily, "and so it is, truly, and very notably discharged", but it was too little too late. The awkwardness of the moment was comically rescued by the incompetence of Snug who ended up dancing on the wrong side of the stage and facing the opposite direction to everyone else in the bergamask – it is Snug who has earlier confessed to being "slow of study" (1.2.63).
The production ended with Oberon's blessing on the lovers – here set to music and Puck's cheeky epilogue. The Globe's trademark jig forced one to wonder, as usual, why the theatre refuses to trust the playwright to end his own plays without populist razzmatazz … one day, perhaps…
11:44:34 am. Categories:
Stage Performances