A Perfect Fit: Greater Victoria Shakespeare Society's Measure for Measure
As an English Lit student, I have experienced most of Shakespeare's plays primarily as a reader, paying perhaps too much attention to individual words, and ignoring stage directions altogether. I actually haven't read Measure for Measure, so it was a nice change to experience the play first as a viewer, especially when it was so well done.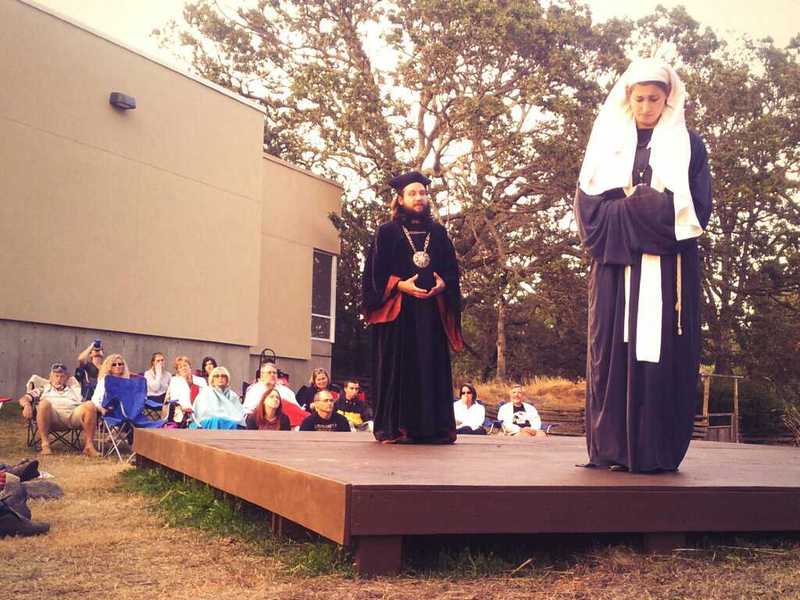 Greater Victoria Shakespeare Festival (GVSF) is just finishing up their 10th season, and their experience showed with this polished production. The open-air setting and simple, slightly elevated stage meant every chair and blanket spot felt up-close and personal, with actors entering and exiting the stage via lanes that cut through the audience. A small rocky outcrop behind the stage made up the set design, while Camosun College's beautiful grounds and Garry oak trees provided a refreshing backdrop. The casual atmosphere changed slightly in the second half, as gathering darkness heightened the drama and bright lights brought the actors into sharper focus, complimenting the play's themes of accusation and sin.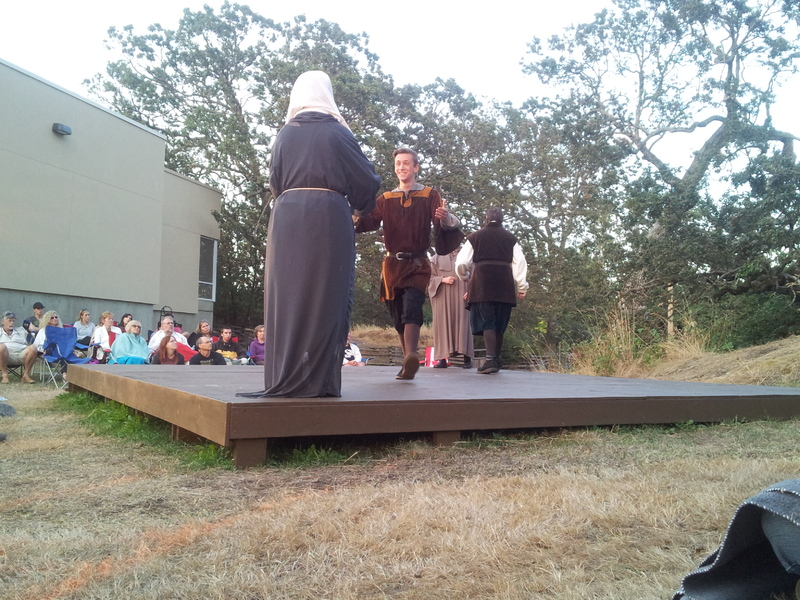 The acting was quite strong. Ariel Slack played a perfectly dramatic Isabella, covering her character's emotional range without ever becoming shrill. However at times I was unable to hear her, particularly during her pleading, because it took place at the opposite end of the stage, facing away from me. My companion thought Julian Cervello's Angello should have been a little more evil, but I disagree. To me, he seemed like a playground bully's sidekick, all grown up but still bitter from past slights, who has accidentally found himself in a position of power—hard to take serious, yet all the more distressing because he was being taken so seriously. This also provided a strong contrast with Justin Guthrie's eloquent and firm Duke Vincentio.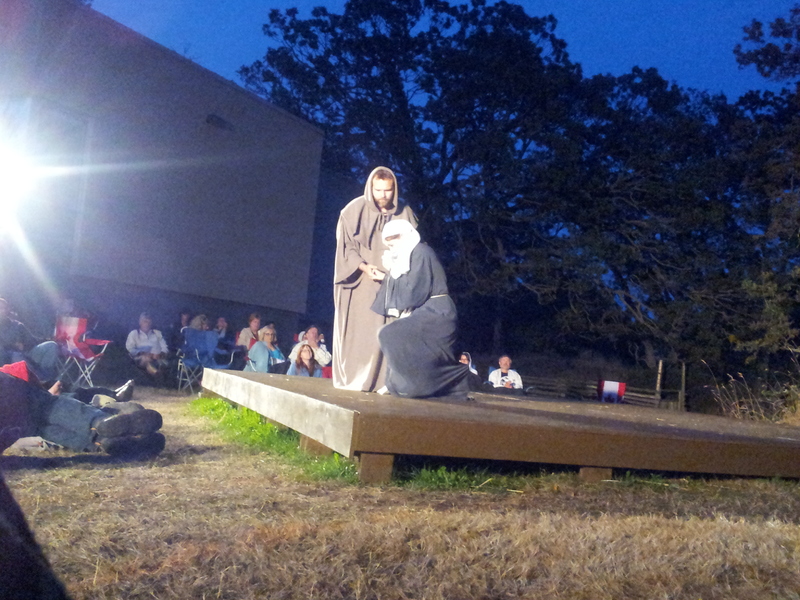 I also really enjoyed Blair Moro's Lucio. His part could be easily overdone, but he kept it in check and let the Bard's humour speak through him. His delivery method actually kind of reminded me of Jonah Hill, although I'm not sure if Moro would find that a compliment. Michael Bell (Claudio) has been acting in Victoria for five years, and it shows. His confidence and youthful appearance (complete with Macklemore haircut) worked to his role's advantage, but his sharp delivery and constantly furrowed brow were at times almost too much for such a casual environment. The pared-down set put extra focus on the actors, and their success reflects highly on Clayton Jevne's direction and Rowan Hebert's stage management.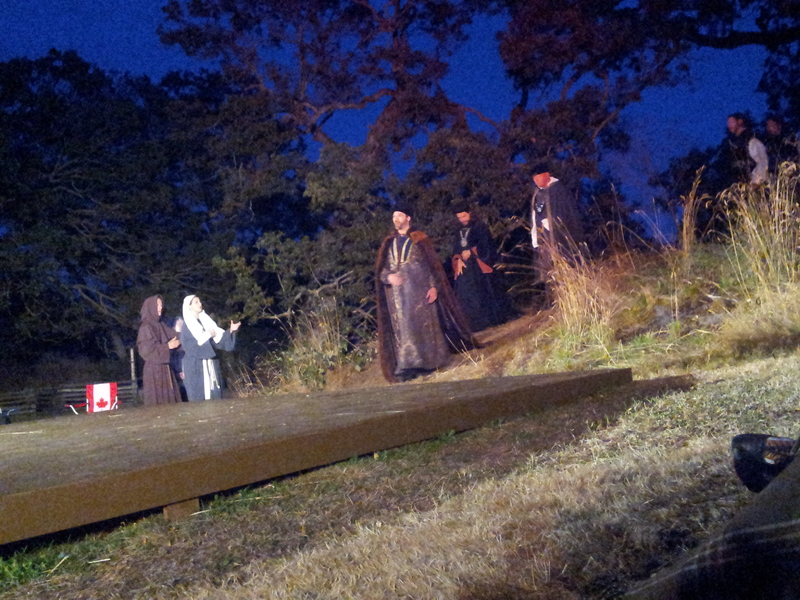 Before the play began, a spokesperson acknowledged that it was to take place on land that is the traditional territory of the Lkwungen, Esquimalt, and W̱SÁNEĆ peoples. (The University of Victoria campus, from which I write this review, rests on the unceded land of the Lkwungen and WSÁNEĆ Coast Salish Territories.) At many of the events I have attended lately, both scholarly and otherwise, territory acknowledgement has often felt rote and recycled. But GVSF seems to have thought slightly more about what that acknowledgement means and how to work it into their practice, and for this I commend them. Measure for Measure takes place on "The Camus Stage," which the program explains comes from the camas bulb, while "Camosun" (or "place for gathering camas") was a name for the area that is now downtown Victoria. Additionally, Camosun's Na'tsa'maht Gathering Place provides the venue for GVSF's other production, The Merry Wives of Windsor ("Na'tsa'maht" is a Salish phrase that means "working together as one"), with the program providing information about the history of its architectural design.
Overall it was a lovely way to spend a summer evening. They only have three shows left, but if you find yourself free this weekend, I highly recommend you grab a lawn chair and head over.
02:24:59 pm. Categories:
Stage Performances
Bawd on the Beach: Brothels Outlawed in New Orleans Production of Measure for Measure
Of the three Shakespeare productions that Bard on the Beach brings to its sea-side stages this summer, Measure for Measure delivers the most energy. Director John Murphy and musical director Benjamin Elliott transform the play into a ragtime jazz musical set in 1900s New Orleans, showing us the lighter side of the law without losing sight of the story's weightier implications.
The Cajun setting works rather well for this play's sexual and legal themes, with the players' accents skillfully deployed in an auditory rendering of class and racial divisions. Mara Gottler's costume design, too, shows the discrepancy between wealth and poverty, with the duke and his lords dressed in black banking attire against the browns and blues of Claudio and the others. Outliers include Isabella, who wears pure white; Mistress Overdone, who wears suggestive reds; and Lucio, who sports a straw boater and sycophantically swings a cane throughout.
Murphy does New Orleans justice by substituting every occurrence of "Vienna" with "N'Orle'ns," not to mention colouring the dialogue a few other local toponyms. He thereby unabashedly tweaks the Bard's sacred language in favour of a more cohesive setting. To his credit, the play's language seems curiously well-suited to the Yat dialect as well as this period of New Orleans history.
No production set in New Orleans would be complete without music, and Elliot delivers a collection of cleverly written original songs based on language from the play text. I hoped to pick up a sound track at the Bard Boutique after the show, but I guess the festival organizers did not foresee Elliot's success. I've put in a request that a recording be available next year. It's that good. If Internet Shakespeare Editions can get their hands on the music, it will be a fantastic addition to the Shakespeare in Performance Database.
The production's greatest strength, however, is undoubtedly its lively cast, a talented group of performers capable of singing, dancing, and getting the crowd to shout along with the rabble. As Isabella (Sereana Malani) presents her unlikely case before the court, audience members find themselves following the lead of David Marr's Pompey, chanting "Hear her! Hear her!" one minute and jeering at Isabella the next. David Mackay renders a slimy Angelo and Andrew Wheeler delivers a Kelsey Grammer-like Duke Vincentio: kind and personable, yet severe enough to rule a dukedom. Though much of the play is dedicated to light-hearted comic mischief—led by a delightfully smarmy Lucio (Anton Lipovetsky) and a repulsively alluring Mistress Overdone (Lois Anderson)—Isabella and Claudio (Luc Roderique) manage to silence and captivate the audience with an emotional delivery of the dialogue in act 3 scene 1 ("Ay, but to die…").
If the lead performers are effective, the supporting cast members push the play's execution to near perfection. It's one of those rare productions where your eyes remain free to wander away from speaking characters to fall upon an absurdly funny facial expression from Froth (Benjamin Elliott) or a subtle glance between Escalus (Bernard Cuffling) and Angelo. Every single supporting actor buys into the action, a chemistry that is especially rare so early in the run (I attended the opening preview performance).
Several performers doubled up on roles, especially during musical numbers. During the final scene, band member Chris Cochrane suddenly dropped his instrument to transform himself into Elbow one last time, frantically donning his constable hat in a sequence that toed the line between bad staging and comic metadrama. Most notable, however, was Lois Anderson doubling as Mistress Overdone and Juliet, subtly drawing a parallel between prostitute and nearly-wed.
If the production falls short in any area, it is in the regrettable overuse of physical innuendo. Don't get me wrong: I can't argue with an occasional pelvic thrust to punctuate an antiquated sex joke, and I have no objection to Mistress Overdone wielding a dildo during one of Constable Elbow's brothel raids, but when every single allusion to a male or female sex organ becomes a gesture—especially in a saucy play like Measure for Measure—the sharpness of Shakespeare's wit grows dull. That said, these raunchy moments were certainly highlights for the teenage boys sitting behind me. And I suppose that's worth something.
03:27:18 pm. Categories:
Stage Performances
Measure for Measure
Suspender-clad, semi-naked women writhe in red-backlit doorways to a thumping disco beat in the opening of the Almeida's Measure for Measure. It is a brave, even uncomfortably overstated, beginning. The scene's immediate fade to Duke Vincentio's office, from which the music's muted bass can still be heard, seems furthermore to suggest that the Duke's discussion of state business and assignation of power to Angelo occurs in the backroom of a nightclub. Curious though this may be (especially given the austerity of later scenes that also take place 'in the Duke's palace'), its ostensible function – to establish to a modern audience the play's emphasis on the sexual corruption in Vienna – is guaranteed. It is ironic, then, that one of the production's problems concerns the extent to which the sleaze that is initially apparent here is not successfully integrated into the rest of the action. From the large-scale rendering of Da Cortona's Rape of the Sabine Women that forms the backdrop of approximately half of the sets, to the series of leopard print-heeled prostitutes that occasionally scuttle across the stage, the sense of Vienna's licentious decay remains superficial, a theme imposed onto a narrative world in which the characters are essentially honest, confused and overwhelmed.
The portrayal of Angelo is exemplary in this case – Rory Kinnear's very human and almost pathetic representation of the scheming administrator is fascinating, and at times touching. Angelo stands bespectacled and waist-coated, with feet together, hands behind his back and eyes cast downwards during parts of I.i in which he receives the Duke's authority, and his humility persists throughout. In a hilariously winning moment in 2.4, which highlights the equal measures of panic and pleasure that he takes in Isabella's presence, he rehearses studious poses to adopt on her entrance and struggles to replace his glasses with contact lenses before she appears. The characterisation is slightly at odds with the original text's descriptions of Angelo (which are retained in performance) – a man so passionless he 'scarce confesses / That his blood flows, or that his appetite / Is more to bread than stone', and whose urine Lucio compares to 'congealed ice'. Yet the representation of a government official who is fundamentally and quite transparently inept, but whose decisions entail consequences of public and state importance, is a pertinent reading. Angelo's demeanour at the end of the play, following the public unveiling and condemnation of his behaviour in office, suggests a shame and embarrassment so horrifying and deeply painful that it almost renders him insensible; his failure to acknowledge Mariana as his loyal wife might be read as an inability to function, rather than steadfast refusal.
Anna Maxwell Martin's Isabella is as strong, articulate and quietly confident as Kinnear is flustered and rash. Her performance brings a physical concentration and intensity to the role, and her slight frame is counterbalanced by poise and passion alternately. The rare consequence of this rendering is that when Isabella refuses to sacrifice her virginity for the life of her brother it does not seem ridiculous, even to modern sensibilities; Isabella's restraint and rationality is reassuring rather than cold; we do believe in her choice. In many ways, she is the only character in the production who seems fully in control of her actions, and sensitive to what is going on around her. Her self-possession lies in increasingly stark contrast to the Duke's rapidly degenerating credibility. In his first appearance as the Friar, the Duke (Ben Miller) comes across as a familiar, benevolent patriarch, but his actions become more difficult to justify as the play continues. This is a familiar criticism of the play, but the absurdity of the Duke's decision to let Isabella believe that her brother is dead comes across more clearly than in any production I have seen. Here, the Duke's lapse of judgement is not attributed to any ulterior or sinister motive; it is, instead, apparently unconscious, inexcusably naive, and frankly deluded.
If the Duke's scheme is guided by anything other than a blind lack of foresight, it is his inability to negotiate the world around him, an essential cluelessness that is hinted at in Miller's presence on-stage as the audience enter and are seated, before the action has officially begun. Lurking towards the back of the stage and occasionally pacing, the Duke is observed here in protracted self-contemplation, weary and tired, his head often cradled in his hands. His desk is covered in papers, half-finished work, empty coffee cups, plates, a full ash-tray; it is late at night and he is drinking red wine as he hands his affairs over to Angelo. These little signals, gesturing to a life in disorder, rouse sympathy rather than suspicion and the Duke's headlong plunge into a series of events that do not, ultimately, lead to his intended outcome, indicates a simple inability to handle affairs, and to assess accurately the reality of situations. While it is intensely uncomfortable, it is not surprising when Isabella cannot answer the Duke's proposal for marriage and stands aghast, shocked by the sheer madness of the unfolding events. But here, there is no sense that the union will be forced; the Duke's growing realisation that he has made a terrible error is palpable; he begins to fidget, look embarrassed; his confidence and authority are undermined sufficiently to suggest that Isabella's implicit, silent refusal is accepted. Isabella's supreme example of rationality wins out in this character-led production. How Vienna will fare under the rule of the visibly shaken Duke, his confidence at its lowest ebb yet, is a question that lingers longer than usual after his slow retreat from throne to backstage before a silent crowd.
02:06:21 pm. Categories:
Stage Performances