Performance Review: A Midsummer Night's Dream (Stratford, Ontario – 2014)
By Roderick H. McKeown and Sarah Star
In Stratford's 2014 staging of A Midsummer Night's Dream, director Christopher Abraham's stated intent to "forge a sense of family and community as central to the play's setting, and for this community to be inclusive, varied and diverse" is apparent from the outset, shaping an unusually conceptually sophisticated production. This ranges from minor touches, like making Egeus (Michael Spencer-Davis) deaf, speaking in sign through an interpreter, to the overarching framing conceit: this Dream is a wedding entertainment mounted after a backyard wedding ceremony. The players are a troupe of actors, celebrating the marriage of two actors in the company – and that's not a gender-neutral noun, as we mean two male actors. Abraham's production is lent emotional immediacy by the coincidental recent rulings in a number of American jurisdictions striking down bans on same-sex unions; those rulings were not in the headlines when rehearsals began. The play within the play draws upon the currency of love not legally sanctioned.
The Festival Theatre was decorated throughout as for a wedding, with white bows on the end of every row of seats. The cast mingled freely with the audience, some of whom were actually led to believe that they were attending a special, celebratory performance. The actors ad-libbed freely, asking patrons how far they had come for the ceremony, and whose side of the aisle they were on, and offering tissues. When we jokingly, knowingly, stated we were with the groom, we were corrected, and informed there were two grooms. The "newlyweds" were then led in blindfolded, prefiguring the confusions in the forest.
The most prominent directorial decision that follows on from this frame is the cross-casting of both Lysander (Tara Rosling) and Titania. Casting Hermia and Lysander as two women pleading for their love to be recognized translates Shakespeare's slightly improbable legal scenario into a modern idiom. Many of Lysander's lines – telling Demetrius "Do you marry him" – take on wonderfully ironic meaning. Conversely, Hermia's contempt for "all the vows that ever men have broke" becomes a celebration of lesbian constancy. The patriarchal dynamic that underwrites Demetrius' claim to Hermia is all the more evident, as this production highlights more than most the brute power of the state to enforce heterosexual norms. Egeus' deafness to his daughter's arguments is symbolic –and it also has the effect of forcing Hermia (Bethany Jillard) to speak her own sentence, translating her father's furious signs for the onstage audience. The silently watching Hippolyta's (Maev Beaty) uneasy relationship with Theseus (Scott Wentworth) is rendered more obviously tense and coercive; she is attended by armed Amazons, and her surrender seems at best conditional, and tested by this display of patriarchal dominance. This made wonderful sense of her conversation with Theseus on the hunt, as her references to Hercules become intentional goading, a deliberately cruel reference to a demi-god former lover. Wentworth's assurance that his hounds are bred "of the Athenian kind" is an insecure lover offering what he knows is second best.
The ending of the lovers' plot is carefully staged to acknowledge and resolve those tensions. Wentworth performs his reversal of the law as a placatory gift to his future queen, and matched word with gesture, offering each couple a flower, and, tentatively, one to Hippolyta. It is, in effect, another proposal of marriage that he is relieved she accepts.
The other reconciled couple are equally strikingly played. It's a gay wedding, and it wouldn't be a gay wedding without a healthy dose of camp. Filling those shoes – we couldn't tell if they were pumps or slingbacks – on alternate nights are Evan Buliung (Titania at the performance we attended) and Jonathan Goad. Titania is emphatically the fairy queen. She sings falsetto. She dances. She ad-libs lines that reflect the cross-casting of the play and the sexuality the grooms in the frame. In short, she is a one-woman assault on heteronormativity and predictability, occupying in many ways the role usually played by Puck (Chick Reid, somewhat sidelined in this production). At once stately and mischievous, and feminine while deconstructing femininity, Buliung's performance, too, lent urgency and intellectual depth to the production. This is a fairy queen who can be maternal and self-consciously feminine, and then chest-bump her husband. We invite readers who saw Goad – a splendidly butch and sardonic Oberon in the performance we saw – as Titania to send us comments for inclusion in an updated review.
Goad's Oberon is above all the purveyor of magic in the play, and the production walked a fine line between playing the magic for real and acknowledging the theatricality of the event. The lovers in the grip of the love potion responded physically to Oberon's gestures, heads and feet raised off the ground, clearly in the throes of enchantment. But such moments were also played for laughs, as Goad sadistically held Demetrius in that difficult position – clawing for support at Goad's belt – with a gleeful "Nice abs!" Further magical effects were achieved by the liberal use of child labour to whack the lovers with branches, none too gently guiding their steps through the fog of the forest. As the lovers succumbed to exhaustion they were literally weighed down by their young cast-mates – Demetrius complaining as he was overcome "I still have lines!"
The presence of the children – perhaps necessarily – meant that the production pulled some of its punches. When Titania's guard (played by a child) is overcome by Puck's blow dart, the fainting child was caught by an adult cast member. Similarly, the interlude between Bottom (an oddly subdued Stephen Ouimette) and Titania becomes all innocence – a conceptually questionable decision for a production that otherwise pushes the envelope on gender norms. The opposite effect was achieved by having the Changeling a physical presence, tenderly held by Titania (who covered his ears when speaking of his mother's death), and rather abstractedly won by Oberon. This was a real emotional defeat, even if Titania exits seeming to promise that the subject is not closed.
The presence of child actors also led to occasional breaking of the frame. To have fairies sing Bruno Mars' "Grenade" after Helena has been dismissed by Demetrius might make some sense; to have children sing a song of unrequited love at a wedding is – we would hope – improbable. Another song, too, tested the flexibility of the frame to the breaking point. After Pyramus and Thisbe, interrupted in this staging by an increasingly intoxicated Hippolyta – Bottom leads the cast in a frame-breaking rendition of New Order's "Bizarre Love Triangle." In and of itself, this is no problem. But Wentworth then ends the raucous music as the host at a suburban wedding, warning the guests that "I have neighbours!" This, unfortunately, comes before the fairies' magical blessing of the three – sorry, with the grooms four – marriage beds. Rather than being a commentary on magic bleeding into the mundane, the ending seems confusing and confused.
The newspaper reviews have ranged from the stellar (Nestruck in The Globe and Mail) to the witheringly dismissive (Ouzounian in the Star) and everything in between (Cushman in the Post). For some, it's a matter of taste; pop music intervals in Shakespeare are not everyone's cup of tea. Abraham's staging has a lot going on, and perhaps it's difficult to keep so many plates in the air without breaking one or two. But the diversity that he places front and centre in his conception of the show necessarily means an eclectic mix, and his queer sensibility in approaching the frame means it would be frankly disappointing if some sensibilities were not offended. The aesthetics of queer protest draw on carnivalesque displays of bad taste and "the riot of the tipsy bacchanals" is not out of place in such a context. Abraham's show is here (and now) and queer – get used to it.
07:21:18 pm. Categories:
Stage Performances
Original Practices Henry IV, Part II Hailed as Valiant First Effort for Colorado Shakespeare
As part of an experiment in working with original practices, the 57th season of Colorado Shakespeare Festival included a Henry IV, Part II conclusion to the company's fully staged Henry IV, Part I for three Sunday performances. This unique CSF staging included only five days of rehearsal, a prompter, many key actors with just a "cue script" in hand, universal lighting, a hodge-podge of modern dress and period costumes, and a generally collective direction of the piece by the acting company.
Producing Artistic Director Timothy Orr welcomed audiences and explained a bit about original Elizabethan theatre staging practices, how original practices have been interpreted by various companies in recent years, and the adventure that Colorado Shakespeare embarked on for this production.
Fortunately, for many company members, the production most likely benefitted significantly from the casting, character development, rehearsal period and ensemble work that was put into Henry IV, Part I, and Michael Winters once again led the way on stage as an amiable, boastful, poignantly pathetic Sir John Falstaff. The story of King Henry IV's maladies and death, the odd misunderstanding with his son, Hal, Prince John's questionable integrity and Falstaff's eventual humiliation is sobering drama under the best of circumstances and the CSF company manages to make sense of the piece—but it was a long process. A number of actors seemed to struggle (borrowing from Peter Quince) with "cues and all." The result was a much longer than the promised fast and light pacing keeping to "the two hours' traffic of our stage."
Still, kudos to a fine company of actors and congratulations to an artistic and production team for risking public performances under experimental conditions. Although the results of the "final product" were mixed, many actors rose to the challenge and the production was no doubt an interesting artistic experiment for the company and an educational journey for the audience.
Jim Volz, Editor, Shakespeare Theatre Association's quarto
Professor, Theatre, California State University, Fullerton

[Dr. Jim Volz is a member of the American Theatre Critics Association, former CEO/Managing Director of the Alabama Shakespeare Festival, and the author of seven books, including HOW TO RUN A THEATRE (Methuen Drama/2011), WORKING IN AMERICAN THEATRE (Methuen Drama/2011), and SHAKESPEARE NEVER SLEPT HERE. He has produced over 100 professional productions, consulted for over 100 theatres and professional arts groups, and written over 100 articles for publication in newspapers, magazines, books and journals. He may be reached at jvolz@fullerton.edu]
01:08:14 pm. Categories:
Stage Performances
Solid Henry IV, Part I Soothes Reviewer's Shakespeare Festival Angst in Colorado
Returning to the Colorado Shakespeare Festival many times over the past four decades allows one a bit of perspective in regards to the delightful, open-air 1,000 seat red-rock historic Mary Rippon Theatre, the sassy, somewhat quirky city of Boulder and the joys of a true Shakespeare Festival where the whole is almost always greater than the sum of its parts. Operating on a slim budget with a small, impressive Equity actor core and a company carefully cobbled together largely from local talent and the nation's BFA and MFA programs, the 57th season of Colorado Shakespeare offered a diverse and generally satisfying weekend of theatre.
Timothy Orr was selected to helm the theatre in 2014 after a nationwide search and a season as Interim Producing Artistic Director. He welcomed audiences to each of the four productions this reviewer attended (Merry Wives of Windsor, I Hate Hamet, Henry IV, Part I and Henry IV, Part II) and it was his decision to produce the two Henrys on one intriguing six-hour Sunday that pulled me back to Colorado. To up the stakes a bit more than this fairly rare day-long staging of the two Henry plays, Mr. Orr decided to "experiment in working with original practices" for CSF's Henry IV, Part II. The artistic initiative was clearly rewarded with boisterous sold-out crowds of Colorado Shakespeare loyalists, curious educators, and theatregoers from across America.
Shakespeare's well-crafted tale of traitors, tarts, trysts and family strife is anchored by King Henry IV's eldest son, Prince Hal, and his ignoble misadventures with the scoundrel Falstaff. Sam Gregory is a complicated and wonderfully nuanced Henry IV and Benjamin Bonenfant rises to the substantial challenges of the surprisingly heroic Prince Hal. Geoffrey Kent shines as the cocky Henry Percy (Hotspur) and Michael Winters melds the play's merriment, philosophical charm and political power together as the incorrigible, bombastic Falstaff.
Director Carolyn Howarth embraces the play, brings the best out of her wide-ranging company of actors, and manages to extract still timely and universal political truths that clearly resonated with the audience.
Scene designer Carolyn Howarth's simple, clever, pivoting set pieces distinguished court room from bar room and kept the focus on the mad-cap antics of Sir John Falstaff, the agony of a King trying to quell a rebellion and the inevitable showdown between Hal and Hotspur. Hugh Hanson's costume designs and Jason Banks lighting designs helped distinguish the warring factions, focus the action and move the play along.
The world's best Shakespeare's Festivals are indeed more than the sum of its parts. After a less than glo-rious start to the weekend with an ill-advised, clumsily directed, oddly annotated rendition of The Merry Wives of Windsor, it was grand to see most of the same company (with a different director) rise to the challenge of Henry IV, Part I and delight audiences with a rambunctious, very funny production of Paul Rudnick's I Hate Hamlet, over the next two days. Add in the bagpiper, singers, dancers, tattooed Shake-speare t-shirts, moonlit mountains, local brews and knowledgeable, eager audiences and Colorado Shake-speare's festival formula is tried and true.
Cheers to Colorado Shakespeare's 57th Season and to the artistic, production, education and management team assembled by Timothy Orr. Henry IV, Part II and I Hate Hamlet will be reviewed in companion pieces to follow.
Jim Volz, Editor, Shakespeare Theatre Association's quarto
Professor, Theatre, California State University, Fullerton
[Dr. Jim Volz is a member of the American Theatre Critics Association, former CEO/Managing Director of the Alabama Shakespeare Festival, and the author of seven books, including HOW TO RUN A THEATRE (Methuen Drama/2011), WORKING IN AMERICAN THEATRE (Methuen Drama/2011), and SHAKESPEARE NEVER SLEPT HERE. He has produced over 100 professional productions, consulted for over 100 theatres and professional arts groups, and written over 100 articles for publication in newspapers, magazines, books and journals. He may be reached at jvolz@fullerton.edu]
01:02:54 pm. Categories:
Stage Performances
I Hate Hamlet Proves Perfect "Classic" Comedy for Colorado Shakespeare Festival
Colorado Shakespeare Festival forays into more contemporary work are a relatively recent phenomenon as there was significant angst during the early years of the Festival when it came to straying from the Bard.
Ben Jonson's Volpone (first produced in England in 1606) was the first to break with CSF tradition in 1972 and it took two decades before what many considered a perilous plunge into non-Shakespearean work to once again surface on Colorado Shakespeare stages on the University of Colorado campus.
Fast-forward to summer, 2014, and the non-traditionalists are at it again—this time with an entertaining Boulder, Colorado twist. Paul Rudnick's comic romp I Hate Hamlet is all about the fateful casting of a young television actor as Hamlet (who is haunted by the ghost of stage and screen star John Barrymore). In a fascinating bit of serendipity, Colorado Shakespeare dramaturg Roxxy Duda discovered a treasure trove of Barrymore's belongings in the University of Colorado library archive. Boxes of Barrymore historical documents including the contents of his wallet at the time of his death and correspondence with George Bernard Shaw were evidently donated to the university by a friend of the legendary actor. What great source material for tackling a play!
It may not be Shakespeare but it is a whole lot of fun. Colorado Shakespeare Festival Producing Artistic Director Timothy Orr assembled a marvelous ensemble to join the otherwise Shakespearean summer season (The Tempest, The Merry Wives of Windsor, Henry IV, Parts I and II) and guides them with aplomb. Sam Gregory is riotously bold, cocky and debonair as Barrymore's ghost. Alex Esola plays Andrew Rally, the conflicted television star gauchely cast as Hamlet at the New York Shakespeare Festival (for his commercial appeal). Esola is gratifyingly confused, cloying, and charming as he struggles with Barrymore and his impending opening night.
The overall ensemble adds to the joy of the production. Martha Harmon Pardee, as the realtor who tracks down Barrymore's New York apartment, and Jamie Ann Romero (who plays Rally's girlfriend) add mirth and a touch of reality to Rudnick's farce. Stephen Cole Hughes threatens to steal the show as Rally's writer/producer/director friend who shamelessly and hilariously tempts Rally into returning to his tv roots. Anne Sandoe is very funny and delightfully cast as the actor's agent, Lillian Troy.
Scenic designer Caitlin Ayer creates one wonderful New York apartment that provides usable levels, ample playing space, and a host of visuals evoking an earlier era of Broadway. Katie Horney's costumes are lively and interesting and the rest of the key artistic team (Jason Banks, Jason Ducat, Amy Chini, Geoffrey Kent and Roxxy Duda) all contributed to the success of the production. Of course, it's director Timothy Orr who cast, shaped, timed, and produced the general merriment and, more importantly, successfully risked infuriating the masses with a "contemporary classic" that would most certainly have made Shakespeare smile.
Jim Volz, Editor, Shakespeare Theatre Association's quarto
Professor, Theatre, California State University, Fullerton

[Dr. Jim Volz is a member of the American Theatre Critics Association, former CEO/Managing Director of the Alabama Shakespeare Festival, and the author of seven books, including How to Run a Theatre (Methuen Drama/2011), Working in American Theatre (Methuen Drama/2011), and Shakespeare Never Slept Here. He has produced over 100 professional productions, consulted for over 100 theatres and professional arts groups, and written over 100 articles for publication in newspapers, magazines, books and journals. He may be reached at jvolz@fullerton.edu.
12:56:42 pm. Categories:
Stage Performances
"all my hair in knots": King Lear at the Public Theater free Shakespeare in the Park, Central Park, New York City
What is most striking for this viewer's experience of The Public Theatre's free Shakespeare in the Park production of King Lear (Delacorte Theater in Central Park) is the intractable ugliness of the play. Its male characters are, perhaps first and foremost, relentlessly misogynist. The ascendance of Goneril and Regan to the throne is not objectionable insofar as they are poor choices, but insofar as they are women. In this production, directed by Daniel Sullivan and starring John Lithgow (Lear), Annette Bening (Goneril), and Jessica Hecht (Regan), with a break-out performance by Chukwudi Iwuji (Edgar), the language of the play is heightened and rendered new by actors whose facility with the language and clarity of purpose magnify the play's ugliness, its lack of love and compassion. The play's reiteration and revision of notions of "nothing," its dependence on personal insult ("thou marble-hearted fiend," "Detested kite!" "knave, beggar, coward, pandar, and the son and heir of a mongrel bitch," "thou art a boil / A plague-sore, an embossed carbuncle, / In my corrupted blood," "Milk-liver'd man!" "thou art a fiend, / A woman's shape doth shield thee") reaches the audience with clarity and violence. A lack of human connection was, probably accidentally, compounded by a microphone system that made the characters distractingly separate from their voices, separate from each other, so that communication was doubly alienated from intent, from connections to hope or desire or ambition. (Their voices also lost resonance, and it strikes me that actors do not seem to learn anymore just to project, to protect their voices with their diaphragms—much Broadway theater also uses microphones to amplify voices.) The actors moved comfortably on the gorgeous, minimalist wooden platform set (with scenic design by John Lee Beatty), against a scrim crisscrossed with long, slender rods, or dowels, on which was projected the suggestion of a castle wall, or trees and landscape and, of course, a storm with lightening. Lighting by Jeff Croiter beautifully created shifts from one location to the next as well as shifts in mood and space.
While it is traditional to see the play's pathos as belonging to Lear and Gloucester, whose children grab so relentlessly at power that they sacrifice fathers and humanity to grasp it, this production offers little to win sympathy. Mr. Lithgow's Lear begins the play in confidence of his choice to split his kingdom into three, and the map, spread center stage on the floor,
showed clearly his intent to give Cordelia the largest portion though he says his daughters will compete for that distinction. But very quickly, this Lear showed signs of mental instability, reaching what the actor himself calls the first "temper tamtrum" within a few lines of Cordelia's refusal to speak ("Learning 'Lear': John Lithgow's Shakespeare in the Park Diary," New York Times, June 18, 2014). The effect is to offer credibility to Goneril's claim that their father's irrational decision to "cast off" Cordelia may portend future troubles with him for herself and her sister, Regan. Neither of the sisters is excited by Lear's love contest, and while Goneril's reply is more sure—seemingly agreeing to play her father's game as she warms to her declaration of love— she also indicates the map on the floor very clearly as she declares that she loves him "Beyond what can be valued, rich or rare" (ISE King Lear, 1.1.57). Regan's reply is hesitant, seemingly at a loss for words as well as of self-confidence. She can come up with nothing other than words her sister has already spoken, but her father's clear displeasure with such repetition both frightens her and goads her on. Through the first two acts, Ms. Bening's performance gives weight to a view of a reasonable Goneril as she grows exasperated with a rowdy group of knights whose loud and disorderly gathering can be heard off-stage. Add to this Regan's and Cornwall's (Glenn Fleshler) sincere request for advice from the Earl of Gloucester (Clarke Peters) and the production appeared interested in exploring both the domestic and professional hazards of taking over a business from a parent who seems to suffer from dementia.
Yet this production, at least, also demonstrated the impossibility of sustaining such a view, for while the sisters at first see eye to eye on matters of state, they soon devolve into a shabby and stupid rivalry for Edmund. Any possible explanation for Goneril's attraction to Edmund is lost, coming out of the blue in Act 4, scene 2 without any even visual indication of her admiration for him or exasperation with her husband in earlier scenes (since there is no textual indication before this moment). The kiss between the two here, initiated by Goneril, felt sudden, as if we had missed something. Similarly, Regan's overtures—especially in Ms. Hecht's performance, which made Regan a tentative, insecure, almost flighty participant in ruling the nation until Gloucester's letter is intercepted— show as weakness, as the beginning of a rivalry with her sister that was not in evidence before and could not be explained (this interpretation is also at odds with her later self-assurance in Act 3, scene 7, that begins by ordering Gloucester's death, "Hang him instantly" [ISE Lear, 3.7.5]). As a result, each successive act made by the sisters took them further and further away from that moment of a unified, shared rulership. Moreover, the continuous onslaught of disgust for the female body and for female power expressed by Lear, first and foremost, but also by the Fool (a brilliant Steven Boyer), Albany (an unfortunately weak Christopher Innvar) highlighted what felt on this night to be the play's stunning discomfort with female rule, with the female body as a site of authority or integrity. Lear's thorough loathing for female anatomy brings the play's revulsion to a climax: "There's hell, there's darkness, there's the sulphurous pit, burning, scalding, stench, consumption; fie, fie, fie! pah, pah!" (ISE King Lear 4.6.128-30). During this speech, Lear sat on the ground, legs thrust out before him, slightly open. Gesturing between his legs violently, for emphasis, the rank stench and gaping blackness of a woman reflected in his face, Lear, in his furious movements, palpably brought to life one of the most consistent themes of this production.
While the production seemed to drive home the utter ruthlessness of each character, whose bonds with others were fleeting and self-interested, the women's ruthlessness was particularly weak-minded and ridiculous. In contrast to Lear, who in Mr. Lithgow's performance was a very old man unable to grasp where he went wrong or how things did not turn out as he planned, but whose behavior seemed logical—or at least imaginable—in light of a certain kind of agedness, the women failed utterly to convey sense in their acts, even if sense required a lack of sympathy or love, even if it—like that of the male characters—was ruthless. No indication could be gleaned (after the end of Act 3) that Edmund, for example, could assist a woman in her rulership. While Albany was clearly not supportive of Goneril's vision—and Cornwall was dead, making Regan vulnerable and perhaps in need of a man's assistance, authority, protection—none of this was signaled by either actress. In this light, the play came off as grotesquely misogynist, even for a viewer who has worked extensively on the play. Its total loathing for women was unavoidable in this production.
And whether this was a matter of performance choices, directorial choices, or a text that refused to be denied, I am still struggling to decide. The text is the text, and this production performed that text, nearly (so far as I could tell) uncut, at more than 3 hours. And yet, I wonder whether Goneril and Regan had to come off as behaving, ultimately, so inexplicably and without reason, especially since, as I have said, even Lear's "temper tantrums" became the product of old age, a concrete and almost sympathetic humanity.

Before I bring this review to a close, I would like to dedicate some time to Chukwudi Iwuji (Edgar). I have never seen an actor so convincing in his commitment to Poor Tom, so made for performing speeches that can be incomprehensible to an audience. Here, Mr. Iwuji spoke them beautifully, with layers of meaning and apparent references to events in the play or preceding the play's action. Mr. Iwuji, brilliantly cast as part of a now fairly common practice of color-blind casting, made Edgar's speeches fresh, with various brilliant backdrops projected behind him offering added atmosphere to his flight from court. A nearly full moon rose directly center stage as he determined to flee his father, having
heard myself proclaim'd;
And by the happy hollow of a tree
Escaped the hunt. No port is free; no place,
That guard, and most unusual vigilance,
Does not attend my taking. Whiles I may 'scape,
I will preserve myself: and am bethought
To take the basest and most poorest shape
That ever penury, in contempt of man,
Brought near to beast: my face I'll grime with filth;
Blanket my loins: elf all my hair in knots;
And with presented nakedness out-face
The winds and persecutions of the sky. (ISE Lear 2.3.1-12)
Choices made by the director in scene and sound, the suggestion of a forest in the distance and a valley in the foreground projected behind him, the sounds of hounds on a hunt—and Edgar's need for an escape took on new resonance. While the idea of an Edgar who, like a slave escaping his master runs from the hounds, pushes the bounds of race and class in the play in ways that were undoubtedly incongruous with the text, and frankly inappropriate for the legitimate heir to the Earl of Gloucester, somehow—and to my surprise—Edgar's lines (quoted above) suggested the staging. His were some of the most visually and aurally arresting moments in the play. They were also, nearly solely, the most affecting.
It is clear that this was a Lear that has left me pensive. I walked out of the theater and the park with my companion feeling strongly in need of a shower (and it was a gorgeous, breezy, dry evening in what is usually a humid and even stormy New York). The play's relentless meanness was overwhelming. A little like Edgar, I feel all my hair in knots. But what more can we ask of theater? To walk away pensive, to spend days fretting over a play, to want to talk it over with others who have seen it, whether they loved it or hated it—that, it seems to me, is the purpose of theater.
With thanks to my companion for waiting in line for our free tickets. For more information on the production and to see photos, visit The Public Theater website.
12:14:22 pm. Categories:
Stage Performances
Frame Your Mind to Mirth and Merriment
I confess that I was a bit doubtful as I sat down to the Victoria Shakespeare Company's production of The Taming of the Shrew. The play is difficult to stage for a contemporary audience—it seems too resolutely misogynist to give us unalloyed pleasure. It's a tribute to the VSF director and company that the play shines through as the fizzing, popping, mostly delightful entertainment it was clearly meant to be – a play of carnivalesque topsy-turvy inversion, kin to the earlier Comedy of Errors or the later, more nuanced Twelfth Night.
The play presents disguise and mistaken identity in excess. Everyone is really someone else. Characters generate new identities and then cling to them ferociously, even to the point of Lucentio's father nearly being arrested for impersonating himself. Shakespeare's script foregrounds its own artifice, presenting itself as a play-within-a-play performed for Christopher Sly, a drunkard who has been convinced he is a lord. No one is in the accustomed place. The VSF's production gives pleasing form to this frenzy of misrepresentation.
The production's only set was a miraculous cart that, with simple repositioning, transformed from a sleeping-place for Christopher Sly, to a shelf within the hall of Petruchio's home, to a street-scene door and upper window. This was a delightful device, perfectly suited to a comedy of transformations and disguises. Costumes and props had a simplified Elizabethan aesthetic, which rooted the play in its era. Each scene as played had a reassuringly tight focus. I felt that the actors knew what their purpose was and how the scenes fed into the structure of the play.
As is often the case, secondary characters were cut or combined. The Induction was compressed, and the script's lack of closure in the shell plot was resolved by adding a brief coda from Sly and his companion. At the end of the play, the pair of them strode up over the hill applauding, to the audience's delight. The extra element of cross-dressing in which the Lord's page impersonates Sly's imaginary "wife" was omitted, substituting a female player instead. This smooths out some convolution, but it also removes the opportunity to signal to the audience that the play is aware of gender as a role that can be played (or overturned).
Shrew succeeds or fails on the chemistry between its Katharine and Petruchio, and it is delightful to watch Adrienne Smook and Cam Culham respond to one another, her ferocity wrong-footed by – and wrong-footing – his clownish bullying. Culham's Petruchio is more provocateur and absurdist poet than tyrant, willing to make himself most ridiculous of all. There is some good physical business between Petruchio and Katharine. Smook also doubles – almost unrecognizably – in a brief turn as the Hostess in the Induction.
Julian Cervello is a charismatic and high-energy Hortensio, providing a match for Petruchio's mania. Adam Holroyd's quieter Lucentio is appealing, though he risks being overshadowed by the vitality of his competitor. I might have tried to use staging and timing to establish Lucentio more firmly as the obvious choice for Bianca. Ursina Luther's Bianca is delightful, with some mildly duplicitous business interpolated to foreshadow her later defiance. Alex Judd gives two strong comic turns as Sly and the Pedant, with distinct physical and vocal presences. Susie Mullen is an excellently crotchety Gremio, and Justin Guthrie a believable patriarch. Chloë Mumford, of the junior company, deserves praise for her comedic timing as the Servant and Curtis.
Katharine is presented as strong throughout – she is essentially undefeated, despite the absurd situations Petruchio engineers to "tame" her. I don't particularly want to see a more defeated Katharine (authentic or not), so I liked this directorial choice. It meant that the play, despite its troubling theme, was frothy and delightful to watch – I sat there with a goofy smile on my face most of the time.
The only faltering, I felt, came in Katharine's final speech of obeisance to Petruchio. The scene was well-composed and well-played; Smook delivered her part skillfully. Yet since we, the audience, had been given room to root for Katharine throughout, and since she seemed more or less unbowed right to the end, the final speech, played straight, felt unsupported by the action that came before. This left the ending a little flat for me. However, any director must make the choice she feels is right for her production, and as this was a straightforwardly Elizabethan setting, it may have seemed most appropriate to play the speech straight.
Still – the play provides enough clues that we are in a topsy-turvy world, where people say and do the opposite of what they mean, where everyone is pretending to be someone else, that there is room to play this speech with various levels of ambiguity or irony, roleplay or role-reversal, and still remain true to the tenor of the play and the tone of this production.
This slight regret notwithstanding, I can recommend the VSF production of The Taming of the Shrew as a delightful way to spend a summer's evening. May it "frame your mind to mirth and merriment, which bars a thousand harms and lengthens life" (I.ii).
03:10:59 pm. Categories:
Stage Performances
To Bring Forth so Great an Object
The grounds of Camosun College are an inspired setting for the Victoria Shakespeare Festival's production of Henry V. The chorus' famous plea to the audience – set our imaginations to work! – is given unusual support by the expanse of high sun-bleached grass surrounding the stage. It is easy to imagine that we are on the fields of Agincourt. This is an outdoor production that revels in its opportunity for spaciousness.
In fact, during the Festival's productions we are inside the action. We are ranged on folding chairs facing a simple stage. Actors enter and exit by running down corridors marked out through the audience. The production makes excellent use of an enormous space, with cast streaming in and out across swathes of lawn from several different directions. A small knoll behind the stage allows the players to rush up over the rise or vanish behind it. This is used to particularly good effect in the scenes of war. The staging is otherwise very simple: a bare stage, iconic costume pieces, and two carts to hold extra costumes and props — one red, one blue, to signify the conflict between England and France.
This is a high-energy, unified cast. It's a pleasure to watch them work together. Standouts among the strong ensemble are Alex Judd as the Duke of Exeter and Susie Mullen playing trouser parts with effortless bravado. Henry himself, as played by Julian Cervello, is charismatic and active. This is a king who still bears traces of his rollicking youth – best exemplified by Henry's elaborate prank in Act IV. In the more serious scenes, it would have been satisfying to see a more grounded Henry, one who is able to modulate between the playful, high-spirited young man and the powerful military leader. For example, during Henry's chilling threat of mass violence and violation at Harfleur, his tone should probably not be quite so cheerful – this is Henry showing his steel. Alexa MacDougall as Katharine and Adrienne Smook as Alice provide a lively comedic contrast – as always, I wish for more of these characters, but Shakespeare has not provided it. The negotiation between Henry and Katharine is given enough time to allow some emotional conviction to develop — it is an understated but satisfying directorial choice.
Casting limitations have led to the cutting of minor characters and some doubling. There are, for example, two conspirators instead of three. Adrienne Smook handles her shifts between Alice, Katharine's attendant, and the Welsh Captain Fluellen fluidly, imparting to each a distinct embodiment. There are also cuts to some speeches, to varying effect. Removing the Archbishop of Canterbury's long (and to a modern audience quite confusing) Act I speech about Salic law streamlines the action. Yet the text works hard in that first act to provide external supports for Henry's decision, and trimming back the arguments for the war makes his choice seem more arbitrary.
The direction chooses to foreground something of the repetitiveness, even bureaucracy, of war. Rather than inserting much business – swordplay and comic or violent pantomime – during the shifts of location, the production shows us soldiers rushing to, or trudging from, conflict. What we witness on stage is the interstitial action: the conversation, negotiation, complaining and anxiety that make up much of conflict.
If I were to add something to the solid foundation that this production provides, I would suggest a honing of focus. Because there are so many similar scenes, with the action cutting back and forth between the English and the French, each scene can be strengthened by communicating a clear and specific sense of its purpose. When this focus flagged, some opportunities for dramatic irony were blurred. The speech of the Boy prefigures the French attack on the baggage train; the comic exchange between the lower-class soldiers and their French captive increases our dismay when we hear that Henry has ordered the execution of the prisoners as retribution. These emotional elements give the audience something to hang on to even if they become momentarily unmoored in the Elizabethan dialogue, or a passing motorcycle happens to drown out a few words.
This is an invigorating summer entertainment, a spectacle that manages to be simple at the same time. The aim is to present a stripped-down, straightforward Shakespeare, enjoyed on its own terms, and this is largely successful. Go, and deck their kings with your thoughts.
10:08:43 am. Categories:
Stage Performances
Midsummer Night's Dream (Theatre for a New Audience / Julie Taymor, New York)
[Editor's note: This review was first published on Dispositio on 2014-01-04. We have Dr. Syme's kind permission to republish it here.]
Visually, this is a stunning production. The Polonsky Shakespeare Center, opened this season, is a remarkable space — a broad and deep thrust four stories high, configurable with all sorts of trap doors and hydraulic elements, and Julie Taymor, unsurprisingly, makes highly effective and imaginative use of all these features. The central element in the show is a vast sheet of silk large enough to cover the entire stage: it first appears as the bedsheets of a tiny bed in which a figure we'll soon recognize as Puck (remarkable: Kathryn Hunter) is sleeping, unfolds from the bed to become a balloon of sorts on which the bed is carried up and away, then winds up as a kind of baldachin over the stage, and then proceeds to twist, fold, and billow, birthing Titania for her entrance, ripping open to let Puck back in, and serving as a projection screen time and time again.
There is something deliciously theatrical in how this piece of fabric works. The effects are always impressive, but they're explicitly effects: the sheet suggests magic, it implies representation, but it also remains visible as a sheet, a huge prop manipulated by stage hands and ensemble members present on stage, visibly handling ropes and carabiner hooks. Sometimes, it's characters doing the handling: a running gag is that Flute is too short to catch ropes flown down to hook onto things and always needs help from Snug (who is gigantic). At one point, Puck elaborately hooks herself into a harness while talking to Oberon. A forest of staves that function mostly as sort-of magical trees are very obviously manipulated from below by on-stage figures, or from above by very noticeable ropes. And the production can get quite clever with this metatheatricality. Oberon's reaction to discovering that Puck has love-juiced the wrong Athenian and has turned a true love false (whatever that may mean) finds its angry expression through a lighting change and an orchestrated stamping of all the twenty-odd staves on stage; Puck responds with gentle mockery by banging just one stave, with her hand. The sound is the same (if less loud); the gesture is pretty much the same (except it's Puck's hand moving the stave, not those of visible and invisible helpers). But the effect is completely different: when Oberon "makes" all the staves move and "makes" the light change, the gesture "means" magic; when Puck does it, it doesn't. What the scene draws attention to, though, is the fact that this is not an essential, inherent difference. In both cases, a bunch of human hands stamp a bunch of wooden sticks on the stage floor, but Oberon's magic (and Puck's lack thereof) entirely depend on an audience's swift decision to understand one of those gestures as "magical" and the other as something else, something less impressive.
So that's all very smart, and actually quite Shakespearean (if in a rather un-Shakespearean medium). And Taymor certainly has a remarkable eye for captivating stage images — the kind of moment ideally suited for a production still. Whether it's the opening image after the intermission, when the sheet covers the stage, and all the staves form a kind of stylized birch forest for Oberon to wander in, a solitary dark figure in a space as white as Peter Brook's famous white box set for his RSC Dream (David Harewood is playing the Fairy King topless, with gold stripes across his chest and in what looked like very dark body makeup); or the haunting image of a solitary child standing all the way downstage wearing a cardboard dog's head, which when removed revealed cascades of long, very blond hair; or the hilarious moment when Hermia, in her underwear, finds herself caught between Lysander and Demetrius's crotches at the very moment when they both have rejected her as an object of erotic desire; or even just the small house upstage that, with its stylized neoclassicist facade, identifies scenes as taking place in Athens, and which before Puck's final sweeping scene stands, framed by the sheet draped from the fly, against an iridescent indigo backdrop, with all of its five windows lit — all of which go out one by one as the couples turn off their lights.
And yet, although I enjoyed this production, I wasn't exactly blown away. Despite the impressive visuals, much of the show seemed, visually, like a watered-down version of what Robert Wilson might have done. The colour scheme reminded me of Wilson, and Puck's make-up in particular, with spiky red hair, white-face, and strong eyebrows, could have been straight out of any of his recent Berliner Ensemble productions. In particular, I was reminded repeatedly of the Peter Pan I saw last May. That's not to say, at all, that I think Taymor is ripping Wilson off. Part of it struck me as fairly clear homage. Part of it is likely just the result of an overlap in their aesthetics. What Taymor adds to the equation in a more overt way than Wilson, and what I appreciated about her take on this kind of aesthetic, is the foregrounded theatricality, the very ostentatious made-ness of her stage images. Wilson, for all his anti-realist program, tends to obscure the mechanics of scenes more, leaning towards a more impervious surface, and as a consequence can easily get glib or facile. I think Taymor's approach is more interesting.
That said, if there's a similarity between her aesthetics and Wilson's, they have nothing whatsoever in common in their approach to the text. One of the Berliner Ensemble dramaturge's told me last year that "Do we really need that line? Let's cut it!" is the constant refrain of Wilson's rehearsal work. Taymor's Dream, on the other hand, is textually faithful to a fault — a few lines have been cut, but the play basically proceeds "as it was written" (as they say). Puck gets a few opportunities to ad-lib (including a glorious parody of Bottom), and stands in for Philostrate, Theseus's Master of the Revels (delivering the part in what sounded to me delightfully like a parody of Mark Rylance), but other than that, little work seems to have gone into crafting a performance script for the show. And that points to this Dream's signal shortcoming: it's a visually inspiring production that takes a deeply uninspiring approach to the play.
My heart sank early on, when, after the gorgeous opening with the disappearing bed and a brilliantly choreographed chaotic staging of the preparations for Theseus and Hippolyta's wedding, the two characters come and start to speak — and the show switched from a mode of unpredictable creativity to the dull and utterly conventional sound and look of Anglo-American Shakespeare. Verse was dispatched, more or less competently, in various accents, some fake RP, some actual English ones, some mid-Atlantic inflections (not that I care, but it's perhaps worth noting); some verse speakers signalled their investment in psychology by pausing and showing us that thought was happening, though not necessarily at moments when those pauses made sense or when the thinking seemed supported by what they were saying; Shakespeare was being served. I suspect all the actors more or less knew what they were saying, but nothing was happening on stage that suggested that Taymor had any interest in what was being said — let alone in what was being left unsaid.
For all the creative investment in the visual aspects of this show, at its heart is a rather stunning absence of any kind of serious interpretative investment. It's perhaps indicative that the program offer no director's note of any kind — only a set of "perspectives" firmly anchored in the most commonplace and unchallenging takes on Shakespeare's play (as well as a brief biography of the author that, grump-inducingly, sees a need to "acknowledg[e] that there are and have been prominent individuals who continue to question whether the man from Stratford known as William Shakespeare wrote the plays attributed to him," a note to which a hearty WTF seems the mildest possible response). In German reviews, Taymor's production would be described as "attitude-free." The phrase would not be a compliment. The show creates an atmosphere — an overall oneiric quality, a suggestion that the entire play, as Puck says, may as well just be a dream. But while that's pretty, and pleasing, I do also wonder what it would mean. If the opening image of Puck in his bed is indeed meant to suggest that what unfolds over the three following hours is "just" a dream, then Taymor, rather oddly, appears to anticipate Puck's concluding negative scenario: that the shadows will offend, and that this offence needs to be forestalled by framing the entire show overtly as a dream, as unreal. (Remember that Puck's notion of the play as a dream is intended to "mend" the offence the actors may have caused.) But why assume that? And if that's not the point, what then is gained, or suggested, or implied, by casting the entire play as a dream? (Yes, I know that's what it's called. I've never really quite figured out why. I would expect a director to at least try.)
Midsummer Night's Dream is an extraordinarily rich text. Taymor gives it an extraordinarily rich visual treatment, but that imagistic riches hardly intersects with the textual. There is darkness in some of the visuals, but the nature of that darkness remains obscure — it certainly doesn't illuminate, or displace, or really engage at all in any way, deconstructively or constructively, with the text. Instead, the script seems to be accepted as a given: those are the words, this is how they're supposed to be said, don't mess with them. These are the pictures: let's get creative with them! By the same token, I couldn't help but notice a contrast between the precision of the effects and a relative lack of such precision in the acting, where big moment after big moment wasn't allowed its due weight or didn't hit home with sufficient force. This is not the actors' fault. It's a question of directorial priorities. (Then again, Kathryn Hunter managed to make her scenes about the performance, even about the character; I don't know what that says.) Taymor just doesn't seem all that interested in engaging with the text, or undercutting it (not that that isn't a form of engagement). For instance, I was delighted to see a Helena who not only, FOR ONCE, didn't tower over Hermia, but who was also cast against the text's apparent intent: Hermia is repeatedly troped as darker than Helena in the play, but here, a very English, very blond Hermia is coupled with an Afrian-American Helena perhaps an inch taller than her "dwarfish" friend. The pay-off in the production? Sadly, zero. Lysander's line about leaving a raven for a dove is thrown away; and Helena throughout walks on much higher heels than Hermia. This may be another clever instance of foregrounding stage reality as an effect achieved by mechanical means, but if so, it comes at the cost of throwing away a chance to complicate Hermia's obsession with her own supposed shortness. In other words, more often than not, when the production comes face to face with a chance of letting what's on stage interact with what's on the page, it simply ignores those opportunities.
The consequence of this oddly (though, in an Anglo-American context, hardly uniquely) schizophrenic enterprise is that the wonderful and the trite live unhappily side by side: there's Bottom's ass's head, a technical marvel and a spectacularly creepy image, basically a human nose and mouth at the end of a long donkey's nose, fully mobile, operated by two levers that the actor (visibly) manipulates as he speaks. I loved everything about that: it was the most realistic and the most theatrical translation of Bottom-into-Ass I've ever seen (and again, very clever: Bottom's face and the ass's are a hybrid, because Bottom is, of course, already an ass. And the theatricality of having the actor visibly manipulate his own character's face was of a piece with the production's general approach to its stage magic, so yay for that too). But Bottom's performance was a pretty bog standard interpretation of the role, with a New Jersey (I think!) inflection on the standard issue model, but without any especially interesting choices or moments. (By contrast, last summer's Globe production in London was utterly unremarkable as a production, but featured, in Pearce Quigley, an actor who made interesting choice after interesting choice, essentially reinventing Bottom from scratch.) Perhaps I was just in an uncommonly curmudgeonly mood, but Taymor's take on "Pyramus and Thisbe" struck me as one of the least riotous, least creative, and also least funny versions of that scene I've ever seen — and I used to think it was a pretty indestructible vehicle for comedy.
So, in the end, I found this a very unsatisfying production, but also one that seems to me helpfully illustrative of the problem of mainstream Shakespeare in English, perhaps especially in North America. Whatever desire there is for theatrical creativity, for directorial inventiveness, for finding and pursuing an angle of some sort always, it appears, needs to focus on design — it cannot express itself, or work itself out, dramaturgically. The sanctity of the text is such that it leaves directors and actors hampered — a limitation that is more, rather than less, apparent in productions directed by artists as inventive as Julie Taymor, because the contrast between the creative spirit evident in the design and the choreography on the one hand and the uninspiring, painting-by-numbers approach to the text on the other hand is so very stark. Further confirmation, in other words, that Shakespeare has become a problem, for reasons that have nothing to do with Shakespeare.
06:31:19 am. Categories:
Stage Performances
Shall we not see these Daughters? King Lear at Ashland
Much of the depth of tragedy we feel in King Lear comes from our sense of the spiritual and emotional journey Lear is forced to make, long after the age when we can reasonably expect an old dog to learn new tricks. He begins the play as a cranky, egotistical, shortsighted and short-tempered tyrant. It is only when these qualities lead him to lose all he has – including his sanity – that he learns both empathy and humility. He learns, but it is too late to save himself or those he loves. Others around him undergo a similar journey. Gloucester learns through blindness that he was blind to his own faults; Edgar learns through deprivation the value of possession; Albany – depending somewhat on whether we speak of Albany [Quarto version] or Albany [Folio version] – learns to take some leadership in the name of virtue; and even Edmund, who is thwarted in his chosen journey towards power and wealth, despite of his own nature learns that he may do some good.
All these are male characters, and all, in one way or another are privileged to hold power, or to lose it. We are less used to thinking of the three women in the play as undergoing a similar kind of journey. They are the three daughters of legend and fairy tale: two evil, one good. The most thought-provoking choices in the recent production of King Lear at the Oregon Shakespeare Festival in Ashland were in the characterization of Goneril, Regan, and Cordelia.
The production was directed by Bill Rauch, and staged in the round in the Thomas Theater. The setting was contemporary, and the effect was both intimate and, on the whole, minimalist. The opening scene, where Lear commands a love-test between his three daughters, challenged – even reversed – the audience's expectations, largely through costuming and the non-verbal reactions of the three women. Goneril (Vilma Silva) and Regan (Goodrin Nordli) were wearing formal, colorful gowns, suitable for a solemn occasion; Cordelia (Sofia Jean Gomez) was dressed in somewhat revealing black, which, together with a visible tattoo, suggested that she was the favored, but punk-influenced and rebellious teenager. As the love-test was announced, both Goneril and Regan were clearly nervous, while Cordelia rolled her eyes, and at the moment when she was to perform, simply refused. We were reminded that youthful rebellion can be both self-aggrandizement and a kind of idealism. Her older sisters were clearly deeply shocked by their father's consequent rage.
The brief scene between Goneril and Regan after their sister leaves, disowned and rejected by Lear, is one of the few places that the sisters are given stage time to analyze their situation. My response to this scene in the past has been to think of them as two scorpions warily circling each other, deciding when and where to strike. But this production took a different tack – one no less available in the text – suggesting that they were trying to make sense of a dangerous and difficult predicament. Goneril hints at some sibling rivalry in the background, but at the same time reacts with strong language to Lear's rejection of her youngest sister: "he always loved our sister most, and with what poor judgment he hath now cast her off appears too grossly" (TLN 317). Regan's response can be seen as combining something like compassion – as she speaks of her father's age – with a backstory on his character that rings true: "'Tis the infirmity of his age, yet he hath ever but slenderly known himself" (TLN 318-9).
As events unfold, the production shows the sisters adopting different strategies: Goneril, in a manner characteristic of the first-born, does her best to take control of events and to organize them, becoming increasingly aggressive and ruthless as her control is challenged; her costuming changes to more masculine riding clothes. Regan retreats into a kind of manipulative narcissism, continuing to dress in feminine clothes as her actions become more extreme until they verge on a complete dissociation from feeling. She depends increasingly on drink to keep her going. This last stage device is neatly integrated into the ending of the play, where it becomes very easy for Goneril to poison her by slipping some white powder into her ever-present drink. Both older sisters undertake rapid journeys towards evil, but the production suggests that this development was not inevitable.
Cordelia's journey is less clear. She begins by being rebellious and assertive. Then, of course, she disappears from the action for almost three acts of the play. When we see her again she is in military garb, closely following the hint in the Folio text: "Enter with Drum and Colors, Cordelia, Gentlemen, and Soldiers" (TLN 2349). The connection to the outspoken young woman of the opening scene is clear, and there is a journey in her status from the rebellious youth to the general of the invading forces she brings on behalf of her father; but there is less evidence of an internal change as she speaks to Lear in the scene I usually find the most moving in the whole play, their reconciliation. This Cordelia is more convincing in her anger than in showing affection for her father. At this crucial moment in the play she seems more kin with her sisters rather than different from them, and the result is that she does not clearly demonstrate to her father that his earlier outburst of disturbing misogyny is far wide of the larger truth of female humanity.
A feature of this production was the director's choice to have the part of Lear performed alternately by two seasoned actors, Jack Willis and Michael Winters. Whatever the differences between the two performers, the fact that the remainder of the cast had to adjust to varying nuances of style and characterization clearly had the effect of keeping the production as a whole very much alive; I saw it close to the end of a long run. The night I attended featured Jack Willis in a strong performance that conveyed intensity without too much of the fortissimo one often encounters in the scenes where he reacts with verbal violence to his daughters – and the elements. In the intimacy of the theatrical space the effect of his control was to heighten rather than to reduce the sense of pain he communicates as he travels from the comfort of his easy chair and wide-screen television to the wilderness of exile. His loss of sanity – and parallel discovery of insight and compassion – is accelerated when he loses his Fool (Daisuke Tsuji), who has hitherto acted at times like a kind of prompter, reminding him of his need for control by shaking a puppet-Lear at the moments when his "hysterica passio" (TLN 1329) is in danger of taking over. The Fool's death – a notorious performance crux – in this production is the result of an accident in which he is killed by Lear himself, without the king realizing what he has done.
Willis is deeply moving in the final scene when he drags Cordelia in on a tarpaulin; at the very end, when he believes he sees his daughter alive, he looks away from her body to an imagined or hallucinated image in the distance.
In the echo-chamber that is the subplot of the play, Gloucester (Richard Elmore) is dapper and vain – hence both his deeply insensitive comments about the begetting of his bastard son, Edmund, at the very beginning of the play, and the ease with which Edmund deceives him. At the same time, this Gloucester is essentially decent, and is an instinctive peacemaker in a play that has no room for negotiation: "I would have all well betwixt you" (TLN 1396). In his movement from moral shortsightedness to insight Gloucester suffers the single most horrific moment of the play in his blinding, where the physical violence was in stark contrast to the elegance of the setting in – the gracious music room of Gloucester's castle, complete with grand piano. In a striking touch, Regan slashes the neck of the servant who tries to defend Gloucester with the jagged edge of a wine glass she has just broken. The intermission was just after this scene, with the result that a somewhat subdued audience picked its way around the edges of a stage littered with blood, broken glass, and two bodies, as they made their way to the everyday world of snacks and something to drink. Some stayed to watch attendants clean up, and carry the bodies offstage.
If Lear's daughters have tended to be seen in black and white, in part because their initial motivations are barely hinted at, the sons of Gloucester are more clearly differentiated. Again in this production, costuming was used effectively to provide an immediate backstory: Edmund (Raffi Barsoumian) is in uniform, and it is clear that when he has "been out nine years," this has been in military service. Edgar (Benjamin Pelteson) enters as something of a party boy, tuxedoed and semi-drunk. Edgar's journey in the play is hard to pull off on the stage. He has to morph from his initial naivety to the nothingness and assumed madness of Poor Tom, rising again in stages until at the end he is to take charge of the "gored state" (TLN 3295). It is a structural challenge in the play that Edgar's father is given no stage-center moment for his death. The responsibility of bringing closure to Gloucester's role in the play falls to Edgar, and it was fitting that one of the strongest moments in Pelteson's performance was his narrative of the moment when his father's heart "burst smilingly" (TLN 3162). The moment of his transformation from Edgar to Poor Tom was especially difficult in this production, mainly because the stage set – a diagonal barred iron fence otherwise brilliantly used as the interior and exterior of Gloucester's castle – provided no practical space for his soliloquy, with the result that he was banished to a catwalk in the ceiling among the stage lighting fixtures and a echoing acoustics.
Other than this one scene, the stage sets in the first half of the play were minimal, unobtrusively underlining the action. The storm scene was unexpectedly effective in the confined space of the theater. The technology of sound and lighting is such today that we take the dramatic use of these effects for granted; more surprising in its effectiveness was the way in which the wind in the storm was generated by mutes onstage holding large fans (leaf-blowers?) up to the characters as they moved around the stage, in a manner reminiscent of the puppeteers in Bunraku theater. The storm was orchestrated remarkably well, such that very little of the dialog was lost in what can be a chaotic rather than a moving scene. In the second half of the play, the stage was littered, as if post-apocalyptically, with broken pieces of furniture, presumably as a result of the destruction of the storm. This staging was less successful, as actors were at times constricted in space, and there seemed to be little use of the objects on stage to underline or facilitate the action.
The selection of a modern setting for Shakespeare has become something of a commonplace, as directors seek to provide ways of making the works relevant to modern taste. The result can at times be hit-and-miss, with the modernization offering no more than a surface connection to the audience. In this production, although I found the stage sets uneven in their illumination of the play, the costuming, was immensely effective in providing an immediately recognizable context for many of the characters. That the representatives of Lear's hundred knights were dressed in battle fatigues made them threatening enough that Goneril's concerns over their excesses seemed plausibly legitimate, and I have already commented on the effectiveness of the dress chosen for members of the younger generation – the three daughters and two sons.
The combination of strong direction, a consistently high standard of ensemble acting, and intelligent use of costuming to support characterization made this the kind of production that the Oregon Shakespeare Festival does best: balanced, always probing, with flashes of thought-provoking originality.
Note: links to the text are to the Folio old-spelling version on the site of the Internet Shakespeare Editions.
08:45:13 am. Categories:
Stage Performances
Inversion and Translation: Twelfth Night Kabuki-style
At the Internet Shakespeare Editions, we take great pride in the worldwide network of Shakespeare lovers that we have built over the years, and we never tire of seeing just how many ways the Bard's genius gets translated and repackaged. So, when Miyuki Sakaguichi, performer and social media coordinator from Ryuzanji–a Japanese-based independent company for senior actors–invited the ISE team to see their Rakujuku Kabuki-style adaptation of Twelfth Night at the annual Victoria Fringe Festival, the ISE team hit the Metro Theatre to catch this must-see production.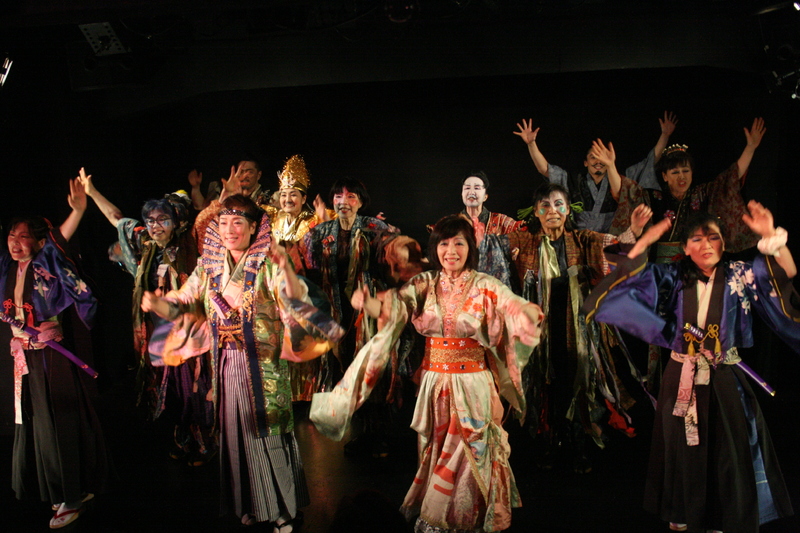 Twelfth Night Kabuki-style
Dating back four centuries, Kabuki is a popular Japanese theatrical convention that uses song and dance to produce highly-stylized, richly staged dramas. The troop–with an average age of 61–produces an intelligent and complex adaptation of Twelfth Night that revels in themes of inversion and translation.
Set in imperial Japan and performed in Japanese with English surtitles, the production is gleefully aware of its convolutions and transpositions. True to the Rakujuku form (Rakujuku loosely translates as "having fun troupe"), the players capitalize on the dramatic irony inherent in the romantic sub-plots. Like traditional Renaissance theatre, all-male casts perform conventional Kabuki; however, Ryuzanji turns the table on gender by featuring an almost exclusively female cast.
This inverted Kabuki form intensifies the already complex gender roles explored throughout Twelfth Night. While the heteronormative male characters (Sir Toby, Sir Andrew, and Malvolio) are played by women, Antonio is played by the only male actor in the cast, Takuhei Kozu, which amplifies the character's implied homosexuality, as he openly devotes himself to Sebastian (Mitsue Naito) and humorously plots for them to run away together. Duke Orsino (played by female actress, Izumi Murata), on the other hand, fully embodies the authoritarian male stereotype in his relentless pursuit of Lady Olivia (Kazuko Kawamoto) despite her impassioned rejections.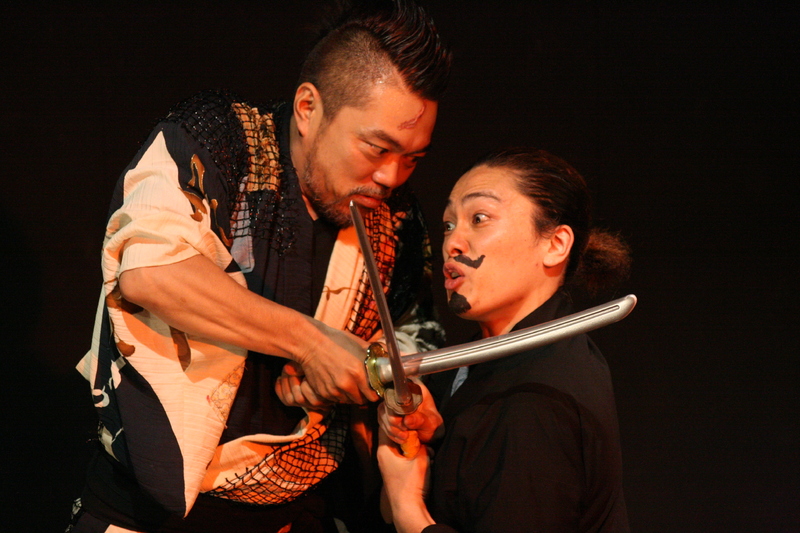 Antonio and an Officer
Lady Viola's (Yuko Sekiguchi's) double gender inversion (a female actor playing a female character in a male disguise) generates metatheatrical moments in which the audience contemplates the comedic (and perhaps social) implications of Lady Olivia's infatuation with Cesario (or rather, Lady Viola). By choosing to marry for love, rather than money, Lady Olivia undermines the vulnerability and docility characteristic of women in early modern London and Imperial Japan. Her autonomy, however, is attenuated by the comedic implications of her infatuation. Onstage, Lady Olivia's bold pursuit and aggressive seduction of Cesario depicts her as an older woman with a sexual appetite for a younger man. Knowing, however, that Cesario is actually Lady Viola–and that Lady Viola is played by a female actor–the performance challenges assumptions of female sexuality. While the script itself determines the romantic fate of this foil, the sexual implications of these gender inversions undermine cultural stereotypes and presents a political message normalizing taboo topics such as transvestism and homosexuality.
Despite the intercultural metatheatrics, the Japanese aesthetic informed all aspects of the production. Traditional Japanese cultural items like fans lent themselves to the play's actions and added symbolism to dialogue and soliloquy. When Lady Olivia authors a love-letter to Cesario on her fan, for example, the feminine prop transforms into an emblem of autonomy. The exquisite design and structure of the kimonos worn on stage provided not only a stunning contrast to the minimalist set design, but also emphasized the gender inversions and challenged cultural assumptions.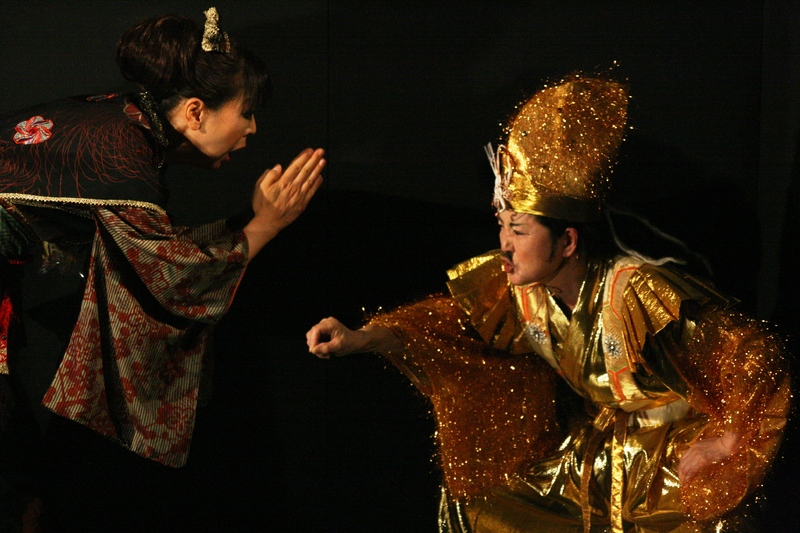 Malvolio's Yellow Stockings Transformed
In contrast, the in-text costume cues provided directorial challenges. Director Show Ryuzanji transforms Malvolio's (Aya Meguro) yellow stockings into a particularly ostentatious gold crown and a gold loincloth, though the cultural significance was never quite explained.

Ari Miyagawa and Emi Takemura's choreography accentuated the Japanese aesthetic with movement. In the production's best musical scene, the cast, meticulously arranged in tight rows, synchronously pivots around the stage with military precision in clockwise and counterclockwise fashion. In another memorable moment, Malvolio (Marui Sandayu), falsely accused of madness, executes sumo-style movements as he prays from his cell. The ceremonious lumbering does not temper the tenderness of Malvolio's romantic confession. In fact, the purification ritual underlying the movements of this popular sport intensifies Malvolio's vulnerability in this scene.
Kimonos Worn Onstage
Decoding Shakespeare through a transnational lense, Ryuzanji embraces themes of translation. The surtitles functioned sometimes as English-as-an-additional-language translations, but also sometimes as metatheatrical cues. Cesario's soliloquies, for example, were not translated on screen, but rather, were framed as another indulgent "monologue." Similarly, anachronistic allusions to Western pop icons (such as Avril Lavigne) and local toponyms (such as The Empress) flattered and delighted the local Fringe audience. Paralleling Baz Luhrmann, the musical segments integral to Kabuki theatre provided playful intercultural and intergenerational accessions to the script.
As digital editors of Shakespeare, we perceived the metatheatrical moments as opening and closing tags. Like the metadata we use to render, interpret, and display Shakespeare's works, Ryuzanji uses translation and inversion as devices to subvert theatrical conventions, such as surtitles, to explore cultural codes, such as gender performativity. These moments occupy a dual position in the performance: they express formal elements intrinsic to the text (and the stage), yet they also contain meaning independent from it.
In a play so conscious of its own playfulness, this witty and insightful adaptation of Twelfth Night promises to get you laughing–and thinking.
(This review is co-authored by Assistant Coordinating Editor Dr. Janelle Jenstad and Research Assistants Telka Duxbury and Quinn MacDonald)
03:10:51 pm. Categories:
Stage Performances
:: Next Page >>