Frame Your Mind to Mirth and Merriment
I confess that I was a bit doubtful as I sat down to the Victoria Shakespeare Company's production of The Taming of the Shrew. The play is difficult to stage for a contemporary audience—it seems too resolutely misogynist to give us unalloyed pleasure. It's a tribute to the VSF director and company that the play shines through as the fizzing, popping, mostly delightful entertainment it was clearly meant to be – a play of carnivalesque topsy-turvy inversion, kin to the earlier Comedy of Errors or the later, more nuanced Twelfth Night.
The play presents disguise and mistaken identity in excess. Everyone is really someone else. Characters generate new identities and then cling to them ferociously, even to the point of Lucentio's father nearly being arrested for impersonating himself. Shakespeare's script foregrounds its own artifice, presenting itself as a play-within-a-play performed for Christopher Sly, a drunkard who has been convinced he is a lord. No one is in the accustomed place. The VSF's production gives pleasing form to this frenzy of misrepresentation.
The production's only set was a miraculous cart that, with simple repositioning, transformed from a sleeping-place for Christopher Sly, to a shelf within the hall of Petruchio's home, to a street-scene door and upper window. This was a delightful device, perfectly suited to a comedy of transformations and disguises. Costumes and props had a simplified Elizabethan aesthetic, which rooted the play in its era. Each scene as played had a reassuringly tight focus. I felt that the actors knew what their purpose was and how the scenes fed into the structure of the play.
As is often the case, secondary characters were cut or combined. The Induction was compressed, and the script's lack of closure in the shell plot was resolved by adding a brief coda from Sly and his companion. At the end of the play, the pair of them strode up over the hill applauding, to the audience's delight. The extra element of cross-dressing in which the Lord's page impersonates Sly's imaginary "wife" was omitted, substituting a female player instead. This smooths out some convolution, but it also removes the opportunity to signal to the audience that the play is aware of gender as a role that can be played (or overturned).
Shrew succeeds or fails on the chemistry between its Katharine and Petruchio, and it is delightful to watch Adrienne Smook and Cam Culham respond to one another, her ferocity wrong-footed by – and wrong-footing – his clownish bullying. Culham's Petruchio is more provocateur and absurdist poet than tyrant, willing to make himself most ridiculous of all. There is some good physical business between Petruchio and Katharine. Smook also doubles – almost unrecognizably – in a brief turn as the Hostess in the Induction.
Julian Cervello is a charismatic and high-energy Hortensio, providing a match for Petruchio's mania. Adam Holroyd's quieter Lucentio is appealing, though he risks being overshadowed by the vitality of his competitor. I might have tried to use staging and timing to establish Lucentio more firmly as the obvious choice for Bianca. Ursina Luther's Bianca is delightful, with some mildly duplicitous business interpolated to foreshadow her later defiance. Alex Judd gives two strong comic turns as Sly and the Pedant, with distinct physical and vocal presences. Susie Mullen is an excellently crotchety Gremio, and Justin Guthrie a believable patriarch. Chloë Mumford, of the junior company, deserves praise for her comedic timing as the Servant and Curtis.
Katharine is presented as strong throughout – she is essentially undefeated, despite the absurd situations Petruchio engineers to "tame" her. I don't particularly want to see a more defeated Katharine (authentic or not), so I liked this directorial choice. It meant that the play, despite its troubling theme, was frothy and delightful to watch – I sat there with a goofy smile on my face most of the time.
The only faltering, I felt, came in Katharine's final speech of obeisance to Petruchio. The scene was well-composed and well-played; Smook delivered her part skillfully. Yet since we, the audience, had been given room to root for Katharine throughout, and since she seemed more or less unbowed right to the end, the final speech, played straight, felt unsupported by the action that came before. This left the ending a little flat for me. However, any director must make the choice she feels is right for her production, and as this was a straightforwardly Elizabethan setting, it may have seemed most appropriate to play the speech straight.
Still – the play provides enough clues that we are in a topsy-turvy world, where people say and do the opposite of what they mean, where everyone is pretending to be someone else, that there is room to play this speech with various levels of ambiguity or irony, roleplay or role-reversal, and still remain true to the tenor of the play and the tone of this production.
This slight regret notwithstanding, I can recommend the VSF production of The Taming of the Shrew as a delightful way to spend a summer's evening. May it "frame your mind to mirth and merriment, which bars a thousand harms and lengthens life" (I.ii).
03:10:59 pm. Categories:
Stage Performances
To Bring Forth so Great an Object
The grounds of Camosun College are an inspired setting for the Victoria Shakespeare Festival's production of Henry V. The chorus' famous plea to the audience – set our imaginations to work! – is given unusual support by the expanse of high sun-bleached grass surrounding the stage. It is easy to imagine that we are on the fields of Agincourt. This is an outdoor production that revels in its opportunity for spaciousness.
In fact, during the Festival's productions we are inside the action. We are ranged on folding chairs facing a simple stage. Actors enter and exit by running down corridors marked out through the audience. The production makes excellent use of an enormous space, with cast streaming in and out across swathes of lawn from several different directions. A small knoll behind the stage allows the players to rush up over the rise or vanish behind it. This is used to particularly good effect in the scenes of war. The staging is otherwise very simple: a bare stage, iconic costume pieces, and two carts to hold extra costumes and props — one red, one blue, to signify the conflict between England and France.
This is a high-energy, unified cast. It's a pleasure to watch them work together. Standouts among the strong ensemble are Alex Judd as the Duke of Exeter and Susie Mullen playing trouser parts with effortless bravado. Henry himself, as played by Julian Cervello, is charismatic and active. This is a king who still bears traces of his rollicking youth – best exemplified by Henry's elaborate prank in Act IV. In the more serious scenes, it would have been satisfying to see a more grounded Henry, one who is able to modulate between the playful, high-spirited young man and the powerful military leader. For example, during Henry's chilling threat of mass violence and violation at Harfleur, his tone should probably not be quite so cheerful – this is Henry showing his steel. Alexa MacDougall as Katharine and Adrienne Smook as Alice provide a lively comedic contrast – as always, I wish for more of these characters, but Shakespeare has not provided it. The negotiation between Henry and Katharine is given enough time to allow some emotional conviction to develop — it is an understated but satisfying directorial choice.
Casting limitations have led to the cutting of minor characters and some doubling. There are, for example, two conspirators instead of three. Adrienne Smook handles her shifts between Alice, Katharine's attendant, and the Welsh Captain Fluellen fluidly, imparting to each a distinct embodiment. There are also cuts to some speeches, to varying effect. Removing the Archbishop of Canterbury's long (and to a modern audience quite confusing) Act I speech about Salic law streamlines the action. Yet the text works hard in that first act to provide external supports for Henry's decision, and trimming back the arguments for the war makes his choice seem more arbitrary.
The direction chooses to foreground something of the repetitiveness, even bureaucracy, of war. Rather than inserting much business – swordplay and comic or violent pantomime – during the shifts of location, the production shows us soldiers rushing to, or trudging from, conflict. What we witness on stage is the interstitial action: the conversation, negotiation, complaining and anxiety that make up much of conflict.
If I were to add something to the solid foundation that this production provides, I would suggest a honing of focus. Because there are so many similar scenes, with the action cutting back and forth between the English and the French, each scene can be strengthened by communicating a clear and specific sense of its purpose. When this focus flagged, some opportunities for dramatic irony were blurred. The speech of the Boy prefigures the French attack on the baggage train; the comic exchange between the lower-class soldiers and their French captive increases our dismay when we hear that Henry has ordered the execution of the prisoners as retribution. These emotional elements give the audience something to hang on to even if they become momentarily unmoored in the Elizabethan dialogue, or a passing motorcycle happens to drown out a few words.
This is an invigorating summer entertainment, a spectacle that manages to be simple at the same time. The aim is to present a stripped-down, straightforward Shakespeare, enjoyed on its own terms, and this is largely successful. Go, and deck their kings with your thoughts.
10:08:43 am. Categories:
Stage Performances
Midsummer Night's Dream (Theatre for a New Audience / Julie Taymor, New York)
[Editor's note: This review was first published on Dispositio on 2014-01-04. We have Dr. Syme's kind permission to republish it here.]
Visually, this is a stunning production. The Polonsky Shakespeare Center, opened this season, is a remarkable space — a broad and deep thrust four stories high, configurable with all sorts of trap doors and hydraulic elements, and Julie Taymor, unsurprisingly, makes highly effective and imaginative use of all these features. The central element in the show is a vast sheet of silk large enough to cover the entire stage: it first appears as the bedsheets of a tiny bed in which a figure we'll soon recognize as Puck (remarkable: Kathryn Hunter) is sleeping, unfolds from the bed to become a balloon of sorts on which the bed is carried up and away, then winds up as a kind of baldachin over the stage, and then proceeds to twist, fold, and billow, birthing Titania for her entrance, ripping open to let Puck back in, and serving as a projection screen time and time again.
There is something deliciously theatrical in how this piece of fabric works. The effects are always impressive, but they're explicitly effects: the sheet suggests magic, it implies representation, but it also remains visible as a sheet, a huge prop manipulated by stage hands and ensemble members present on stage, visibly handling ropes and carabiner hooks. Sometimes, it's characters doing the handling: a running gag is that Flute is too short to catch ropes flown down to hook onto things and always needs help from Snug (who is gigantic). At one point, Puck elaborately hooks herself into a harness while talking to Oberon. A forest of staves that function mostly as sort-of magical trees are very obviously manipulated from below by on-stage figures, or from above by very noticeable ropes. And the production can get quite clever with this metatheatricality. Oberon's reaction to discovering that Puck has love-juiced the wrong Athenian and has turned a true love false (whatever that may mean) finds its angry expression through a lighting change and an orchestrated stamping of all the twenty-odd staves on stage; Puck responds with gentle mockery by banging just one stave, with her hand. The sound is the same (if less loud); the gesture is pretty much the same (except it's Puck's hand moving the stave, not those of visible and invisible helpers). But the effect is completely different: when Oberon "makes" all the staves move and "makes" the light change, the gesture "means" magic; when Puck does it, it doesn't. What the scene draws attention to, though, is the fact that this is not an essential, inherent difference. In both cases, a bunch of human hands stamp a bunch of wooden sticks on the stage floor, but Oberon's magic (and Puck's lack thereof) entirely depend on an audience's swift decision to understand one of those gestures as "magical" and the other as something else, something less impressive.
So that's all very smart, and actually quite Shakespearean (if in a rather un-Shakespearean medium). And Taymor certainly has a remarkable eye for captivating stage images — the kind of moment ideally suited for a production still. Whether it's the opening image after the intermission, when the sheet covers the stage, and all the staves form a kind of stylized birch forest for Oberon to wander in, a solitary dark figure in a space as white as Peter Brook's famous white box set for his RSC Dream (David Harewood is playing the Fairy King topless, with gold stripes across his chest and in what looked like very dark body makeup); or the haunting image of a solitary child standing all the way downstage wearing a cardboard dog's head, which when removed revealed cascades of long, very blond hair; or the hilarious moment when Hermia, in her underwear, finds herself caught between Lysander and Demetrius's crotches at the very moment when they both have rejected her as an object of erotic desire; or even just the small house upstage that, with its stylized neoclassicist facade, identifies scenes as taking place in Athens, and which before Puck's final sweeping scene stands, framed by the sheet draped from the fly, against an iridescent indigo backdrop, with all of its five windows lit — all of which go out one by one as the couples turn off their lights.
And yet, although I enjoyed this production, I wasn't exactly blown away. Despite the impressive visuals, much of the show seemed, visually, like a watered-down version of what Robert Wilson might have done. The colour scheme reminded me of Wilson, and Puck's make-up in particular, with spiky red hair, white-face, and strong eyebrows, could have been straight out of any of his recent Berliner Ensemble productions. In particular, I was reminded repeatedly of the Peter Pan I saw last May. That's not to say, at all, that I think Taymor is ripping Wilson off. Part of it struck me as fairly clear homage. Part of it is likely just the result of an overlap in their aesthetics. What Taymor adds to the equation in a more overt way than Wilson, and what I appreciated about her take on this kind of aesthetic, is the foregrounded theatricality, the very ostentatious made-ness of her stage images. Wilson, for all his anti-realist program, tends to obscure the mechanics of scenes more, leaning towards a more impervious surface, and as a consequence can easily get glib or facile. I think Taymor's approach is more interesting.
That said, if there's a similarity between her aesthetics and Wilson's, they have nothing whatsoever in common in their approach to the text. One of the Berliner Ensemble dramaturge's told me last year that "Do we really need that line? Let's cut it!" is the constant refrain of Wilson's rehearsal work. Taymor's Dream, on the other hand, is textually faithful to a fault — a few lines have been cut, but the play basically proceeds "as it was written" (as they say). Puck gets a few opportunities to ad-lib (including a glorious parody of Bottom), and stands in for Philostrate, Theseus's Master of the Revels (delivering the part in what sounded to me delightfully like a parody of Mark Rylance), but other than that, little work seems to have gone into crafting a performance script for the show. And that points to this Dream's signal shortcoming: it's a visually inspiring production that takes a deeply uninspiring approach to the play.
My heart sank early on, when, after the gorgeous opening with the disappearing bed and a brilliantly choreographed chaotic staging of the preparations for Theseus and Hippolyta's wedding, the two characters come and start to speak — and the show switched from a mode of unpredictable creativity to the dull and utterly conventional sound and look of Anglo-American Shakespeare. Verse was dispatched, more or less competently, in various accents, some fake RP, some actual English ones, some mid-Atlantic inflections (not that I care, but it's perhaps worth noting); some verse speakers signalled their investment in psychology by pausing and showing us that thought was happening, though not necessarily at moments when those pauses made sense or when the thinking seemed supported by what they were saying; Shakespeare was being served. I suspect all the actors more or less knew what they were saying, but nothing was happening on stage that suggested that Taymor had any interest in what was being said — let alone in what was being left unsaid.
For all the creative investment in the visual aspects of this show, at its heart is a rather stunning absence of any kind of serious interpretative investment. It's perhaps indicative that the program offer no director's note of any kind — only a set of "perspectives" firmly anchored in the most commonplace and unchallenging takes on Shakespeare's play (as well as a brief biography of the author that, grump-inducingly, sees a need to "acknowledg[e] that there are and have been prominent individuals who continue to question whether the man from Stratford known as William Shakespeare wrote the plays attributed to him," a note to which a hearty WTF seems the mildest possible response). In German reviews, Taymor's production would be described as "attitude-free." The phrase would not be a compliment. The show creates an atmosphere — an overall oneiric quality, a suggestion that the entire play, as Puck says, may as well just be a dream. But while that's pretty, and pleasing, I do also wonder what it would mean. If the opening image of Puck in his bed is indeed meant to suggest that what unfolds over the three following hours is "just" a dream, then Taymor, rather oddly, appears to anticipate Puck's concluding negative scenario: that the shadows will offend, and that this offence needs to be forestalled by framing the entire show overtly as a dream, as unreal. (Remember that Puck's notion of the play as a dream is intended to "mend" the offence the actors may have caused.) But why assume that? And if that's not the point, what then is gained, or suggested, or implied, by casting the entire play as a dream? (Yes, I know that's what it's called. I've never really quite figured out why. I would expect a director to at least try.)
Midsummer Night's Dream is an extraordinarily rich text. Taymor gives it an extraordinarily rich visual treatment, but that imagistic riches hardly intersects with the textual. There is darkness in some of the visuals, but the nature of that darkness remains obscure — it certainly doesn't illuminate, or displace, or really engage at all in any way, deconstructively or constructively, with the text. Instead, the script seems to be accepted as a given: those are the words, this is how they're supposed to be said, don't mess with them. These are the pictures: let's get creative with them! By the same token, I couldn't help but notice a contrast between the precision of the effects and a relative lack of such precision in the acting, where big moment after big moment wasn't allowed its due weight or didn't hit home with sufficient force. This is not the actors' fault. It's a question of directorial priorities. (Then again, Kathryn Hunter managed to make her scenes about the performance, even about the character; I don't know what that says.) Taymor just doesn't seem all that interested in engaging with the text, or undercutting it (not that that isn't a form of engagement). For instance, I was delighted to see a Helena who not only, FOR ONCE, didn't tower over Hermia, but who was also cast against the text's apparent intent: Hermia is repeatedly troped as darker than Helena in the play, but here, a very English, very blond Hermia is coupled with an Afrian-American Helena perhaps an inch taller than her "dwarfish" friend. The pay-off in the production? Sadly, zero. Lysander's line about leaving a raven for a dove is thrown away; and Helena throughout walks on much higher heels than Hermia. This may be another clever instance of foregrounding stage reality as an effect achieved by mechanical means, but if so, it comes at the cost of throwing away a chance to complicate Hermia's obsession with her own supposed shortness. In other words, more often than not, when the production comes face to face with a chance of letting what's on stage interact with what's on the page, it simply ignores those opportunities.
The consequence of this oddly (though, in an Anglo-American context, hardly uniquely) schizophrenic enterprise is that the wonderful and the trite live unhappily side by side: there's Bottom's ass's head, a technical marvel and a spectacularly creepy image, basically a human nose and mouth at the end of a long donkey's nose, fully mobile, operated by two levers that the actor (visibly) manipulates as he speaks. I loved everything about that: it was the most realistic and the most theatrical translation of Bottom-into-Ass I've ever seen (and again, very clever: Bottom's face and the ass's are a hybrid, because Bottom is, of course, already an ass. And the theatricality of having the actor visibly manipulate his own character's face was of a piece with the production's general approach to its stage magic, so yay for that too). But Bottom's performance was a pretty bog standard interpretation of the role, with a New Jersey (I think!) inflection on the standard issue model, but without any especially interesting choices or moments. (By contrast, last summer's Globe production in London was utterly unremarkable as a production, but featured, in Pearce Quigley, an actor who made interesting choice after interesting choice, essentially reinventing Bottom from scratch.) Perhaps I was just in an uncommonly curmudgeonly mood, but Taymor's take on "Pyramus and Thisbe" struck me as one of the least riotous, least creative, and also least funny versions of that scene I've ever seen — and I used to think it was a pretty indestructible vehicle for comedy.
So, in the end, I found this a very unsatisfying production, but also one that seems to me helpfully illustrative of the problem of mainstream Shakespeare in English, perhaps especially in North America. Whatever desire there is for theatrical creativity, for directorial inventiveness, for finding and pursuing an angle of some sort always, it appears, needs to focus on design — it cannot express itself, or work itself out, dramaturgically. The sanctity of the text is such that it leaves directors and actors hampered — a limitation that is more, rather than less, apparent in productions directed by artists as inventive as Julie Taymor, because the contrast between the creative spirit evident in the design and the choreography on the one hand and the uninspiring, painting-by-numbers approach to the text on the other hand is so very stark. Further confirmation, in other words, that Shakespeare has become a problem, for reasons that have nothing to do with Shakespeare.
06:31:19 am. Categories:
Stage Performances
Shall we not see these Daughters? King Lear at Ashland
Much of the depth of tragedy we feel in King Lear comes from our sense of the spiritual and emotional journey Lear is forced to make, long after the age when we can reasonably expect an old dog to learn new tricks. He begins the play as a cranky, egotistical, shortsighted and short-tempered tyrant. It is only when these qualities lead him to lose all he has – including his sanity – that he learns both empathy and humility. He learns, but it is too late to save himself or those he loves. Others around him undergo a similar journey. Gloucester learns through blindness that he was blind to his own faults; Edgar learns through deprivation the value of possession; Albany – depending somewhat on whether we speak of Albany [Quarto version] or Albany [Folio version] – learns to take some leadership in the name of virtue; and even Edmund, who is thwarted in his chosen journey towards power and wealth, despite of his own nature learns that he may do some good.
All these are male characters, and all, in one way or another are privileged to hold power, or to lose it. We are less used to thinking of the three women in the play as undergoing a similar kind of journey. They are the three daughters of legend and fairy tale: two evil, one good. The most thought-provoking choices in the recent production of King Lear at the Oregon Shakespeare Festival in Ashland were in the characterization of Goneril, Regan, and Cordelia.
The production was directed by Bill Rauch, and staged in the round in the Thomas Theater. The setting was contemporary, and the effect was both intimate and, on the whole, minimalist. The opening scene, where Lear commands a love-test between his three daughters, challenged – even reversed – the audience's expectations, largely through costuming and the non-verbal reactions of the three women. Goneril (Vilma Silva) and Regan (Goodrin Nordli) were wearing formal, colorful gowns, suitable for a solemn occasion; Cordelia (Sofia Jean Gomez) was dressed in somewhat revealing black, which, together with a visible tattoo, suggested that she was the favored, but punk-influenced and rebellious teenager. As the love-test was announced, both Goneril and Regan were clearly nervous, while Cordelia rolled her eyes, and at the moment when she was to perform, simply refused. We were reminded that youthful rebellion can be both self-aggrandizement and a kind of idealism. Her older sisters were clearly deeply shocked by their father's consequent rage.
The brief scene between Goneril and Regan after their sister leaves, disowned and rejected by Lear, is one of the few places that the sisters are given stage time to analyze their situation. My response to this scene in the past has been to think of them as two scorpions warily circling each other, deciding when and where to strike. But this production took a different tack – one no less available in the text – suggesting that they were trying to make sense of a dangerous and difficult predicament. Goneril hints at some sibling rivalry in the background, but at the same time reacts with strong language to Lear's rejection of her youngest sister: "he always loved our sister most, and with what poor judgment he hath now cast her off appears too grossly" (TLN 317). Regan's response can be seen as combining something like compassion – as she speaks of her father's age – with a backstory on his character that rings true: "'Tis the infirmity of his age, yet he hath ever but slenderly known himself" (TLN 318-9).
As events unfold, the production shows the sisters adopting different strategies: Goneril, in a manner characteristic of the first-born, does her best to take control of events and to organize them, becoming increasingly aggressive and ruthless as her control is challenged; her costuming changes to more masculine riding clothes. Regan retreats into a kind of manipulative narcissism, continuing to dress in feminine clothes as her actions become more extreme until they verge on a complete dissociation from feeling. She depends increasingly on drink to keep her going. This last stage device is neatly integrated into the ending of the play, where it becomes very easy for Goneril to poison her by slipping some white powder into her ever-present drink. Both older sisters undertake rapid journeys towards evil, but the production suggests that this development was not inevitable.
Cordelia's journey is less clear. She begins by being rebellious and assertive. Then, of course, she disappears from the action for almost three acts of the play. When we see her again she is in military garb, closely following the hint in the Folio text: "Enter with Drum and Colors, Cordelia, Gentlemen, and Soldiers" (TLN 2349). The connection to the outspoken young woman of the opening scene is clear, and there is a journey in her status from the rebellious youth to the general of the invading forces she brings on behalf of her father; but there is less evidence of an internal change as she speaks to Lear in the scene I usually find the most moving in the whole play, their reconciliation. This Cordelia is more convincing in her anger than in showing affection for her father. At this crucial moment in the play she seems more kin with her sisters rather than different from them, and the result is that she does not clearly demonstrate to her father that his earlier outburst of disturbing misogyny is far wide of the larger truth of female humanity.
A feature of this production was the director's choice to have the part of Lear performed alternately by two seasoned actors, Jack Willis and Michael Winters. Whatever the differences between the two performers, the fact that the remainder of the cast had to adjust to varying nuances of style and characterization clearly had the effect of keeping the production as a whole very much alive; I saw it close to the end of a long run. The night I attended featured Jack Willis in a strong performance that conveyed intensity without too much of the fortissimo one often encounters in the scenes where he reacts with verbal violence to his daughters – and the elements. In the intimacy of the theatrical space the effect of his control was to heighten rather than to reduce the sense of pain he communicates as he travels from the comfort of his easy chair and wide-screen television to the wilderness of exile. His loss of sanity – and parallel discovery of insight and compassion – is accelerated when he loses his Fool (Daisuke Tsuji), who has hitherto acted at times like a kind of prompter, reminding him of his need for control by shaking a puppet-Lear at the moments when his "hysterica passio" (TLN 1329) is in danger of taking over. The Fool's death – a notorious performance crux – in this production is the result of an accident in which he is killed by Lear himself, without the king realizing what he has done.
Willis is deeply moving in the final scene when he drags Cordelia in on a tarpaulin; at the very end, when he believes he sees his daughter alive, he looks away from her body to an imagined or hallucinated image in the distance.
In the echo-chamber that is the subplot of the play, Gloucester (Richard Elmore) is dapper and vain – hence both his deeply insensitive comments about the begetting of his bastard son, Edmund, at the very beginning of the play, and the ease with which Edmund deceives him. At the same time, this Gloucester is essentially decent, and is an instinctive peacemaker in a play that has no room for negotiation: "I would have all well betwixt you" (TLN 1396). In his movement from moral shortsightedness to insight Gloucester suffers the single most horrific moment of the play in his blinding, where the physical violence was in stark contrast to the elegance of the setting in – the gracious music room of Gloucester's castle, complete with grand piano. In a striking touch, Regan slashes the neck of the servant who tries to defend Gloucester with the jagged edge of a wine glass she has just broken. The intermission was just after this scene, with the result that a somewhat subdued audience picked its way around the edges of a stage littered with blood, broken glass, and two bodies, as they made their way to the everyday world of snacks and something to drink. Some stayed to watch attendants clean up, and carry the bodies offstage.
If Lear's daughters have tended to be seen in black and white, in part because their initial motivations are barely hinted at, the sons of Gloucester are more clearly differentiated. Again in this production, costuming was used effectively to provide an immediate backstory: Edmund (Raffi Barsoumian) is in uniform, and it is clear that when he has "been out nine years," this has been in military service. Edgar (Benjamin Pelteson) enters as something of a party boy, tuxedoed and semi-drunk. Edgar's journey in the play is hard to pull off on the stage. He has to morph from his initial naivety to the nothingness and assumed madness of Poor Tom, rising again in stages until at the end he is to take charge of the "gored state" (TLN 3295). It is a structural challenge in the play that Edgar's father is given no stage-center moment for his death. The responsibility of bringing closure to Gloucester's role in the play falls to Edgar, and it was fitting that one of the strongest moments in Pelteson's performance was his narrative of the moment when his father's heart "burst smilingly" (TLN 3162). The moment of his transformation from Edgar to Poor Tom was especially difficult in this production, mainly because the stage set – a diagonal barred iron fence otherwise brilliantly used as the interior and exterior of Gloucester's castle – provided no practical space for his soliloquy, with the result that he was banished to a catwalk in the ceiling among the stage lighting fixtures and a echoing acoustics.
Other than this one scene, the stage sets in the first half of the play were minimal, unobtrusively underlining the action. The storm scene was unexpectedly effective in the confined space of the theater. The technology of sound and lighting is such today that we take the dramatic use of these effects for granted; more surprising in its effectiveness was the way in which the wind in the storm was generated by mutes onstage holding large fans (leaf-blowers?) up to the characters as they moved around the stage, in a manner reminiscent of the puppeteers in Bunraku theater. The storm was orchestrated remarkably well, such that very little of the dialog was lost in what can be a chaotic rather than a moving scene. In the second half of the play, the stage was littered, as if post-apocalyptically, with broken pieces of furniture, presumably as a result of the destruction of the storm. This staging was less successful, as actors were at times constricted in space, and there seemed to be little use of the objects on stage to underline or facilitate the action.
The selection of a modern setting for Shakespeare has become something of a commonplace, as directors seek to provide ways of making the works relevant to modern taste. The result can at times be hit-and-miss, with the modernization offering no more than a surface connection to the audience. In this production, although I found the stage sets uneven in their illumination of the play, the costuming, was immensely effective in providing an immediately recognizable context for many of the characters. That the representatives of Lear's hundred knights were dressed in battle fatigues made them threatening enough that Goneril's concerns over their excesses seemed plausibly legitimate, and I have already commented on the effectiveness of the dress chosen for members of the younger generation – the three daughters and two sons.
The combination of strong direction, a consistently high standard of ensemble acting, and intelligent use of costuming to support characterization made this the kind of production that the Oregon Shakespeare Festival does best: balanced, always probing, with flashes of thought-provoking originality.
Note: links to the text are to the Folio old-spelling version on the site of the Internet Shakespeare Editions.
08:45:13 am. Categories:
Stage Performances
Inversion and Translation: Twelfth Night Kabuki-style
At the Internet Shakespeare Editions, we take great pride in the worldwide network of Shakespeare lovers that we have built over the years, and we never tire of seeing just how many ways the Bard's genius gets translated and repackaged. So, when Miyuki Sakaguichi, performer and social media coordinator from Ryuzanji–a Japanese-based independent company for senior actors–invited the ISE team to see their Rakujuku Kabuki-style adaptation of Twelfth Night at the annual Victoria Fringe Festival, the ISE team hit the Metro Theatre to catch this must-see production.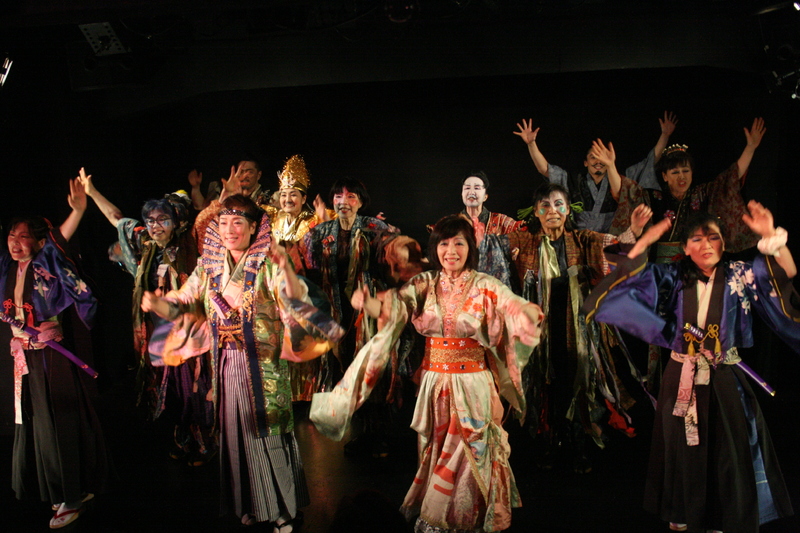 Twelfth Night Kabuki-style
Dating back four centuries, Kabuki is a popular Japanese theatrical convention that uses song and dance to produce highly-stylized, richly staged dramas. The troop–with an average age of 61–produces an intelligent and complex adaptation of Twelfth Night that revels in themes of inversion and translation.
Set in imperial Japan and performed in Japanese with English surtitles, the production is gleefully aware of its convolutions and transpositions. True to the Rakujuku form (Rakujuku loosely translates as "having fun troupe"), the players capitalize on the dramatic irony inherent in the romantic sub-plots. Like traditional Renaissance theatre, all-male casts perform conventional Kabuki; however, Ryuzanji turns the table on gender by featuring an almost exclusively female cast.
This inverted Kabuki form intensifies the already complex gender roles explored throughout Twelfth Night. While the heteronormative male characters (Sir Toby, Sir Andrew, and Malvolio) are played by women, Antonio is played by the only male actor in the cast, Takuhei Kozu, which amplifies the character's implied homosexuality, as he openly devotes himself to Sebastian (Mitsue Naito) and humorously plots for them to run away together. Duke Orsino (played by female actress, Izumi Murata), on the other hand, fully embodies the authoritarian male stereotype in his relentless pursuit of Lady Olivia (Kazuko Kawamoto) despite her impassioned rejections.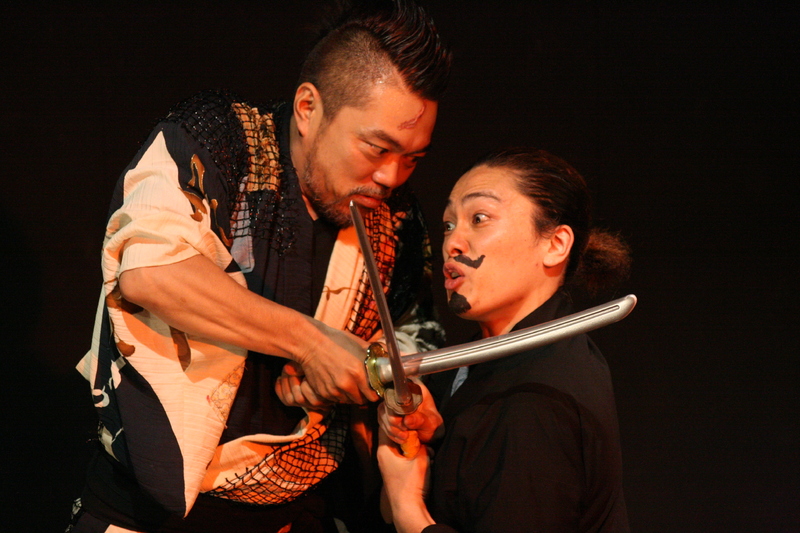 Antonio and an Officer
Lady Viola's (Yuko Sekiguchi's) double gender inversion (a female actor playing a female character in a male disguise) generates metatheatrical moments in which the audience contemplates the comedic (and perhaps social) implications of Lady Olivia's infatuation with Cesario (or rather, Lady Viola). By choosing to marry for love, rather than money, Lady Olivia undermines the vulnerability and docility characteristic of women in early modern London and Imperial Japan. Her autonomy, however, is attenuated by the comedic implications of her infatuation. Onstage, Lady Olivia's bold pursuit and aggressive seduction of Cesario depicts her as an older woman with a sexual appetite for a younger man. Knowing, however, that Cesario is actually Lady Viola–and that Lady Viola is played by a female actor–the performance challenges assumptions of female sexuality. While the script itself determines the romantic fate of this foil, the sexual implications of these gender inversions undermine cultural stereotypes and presents a political message normalizing taboo topics such as transvestism and homosexuality.
Despite the intercultural metatheatrics, the Japanese aesthetic informed all aspects of the production. Traditional Japanese cultural items like fans lent themselves to the play's actions and added symbolism to dialogue and soliloquy. When Lady Olivia authors a love-letter to Cesario on her fan, for example, the feminine prop transforms into an emblem of autonomy. The exquisite design and structure of the kimonos worn on stage provided not only a stunning contrast to the minimalist set design, but also emphasized the gender inversions and challenged cultural assumptions.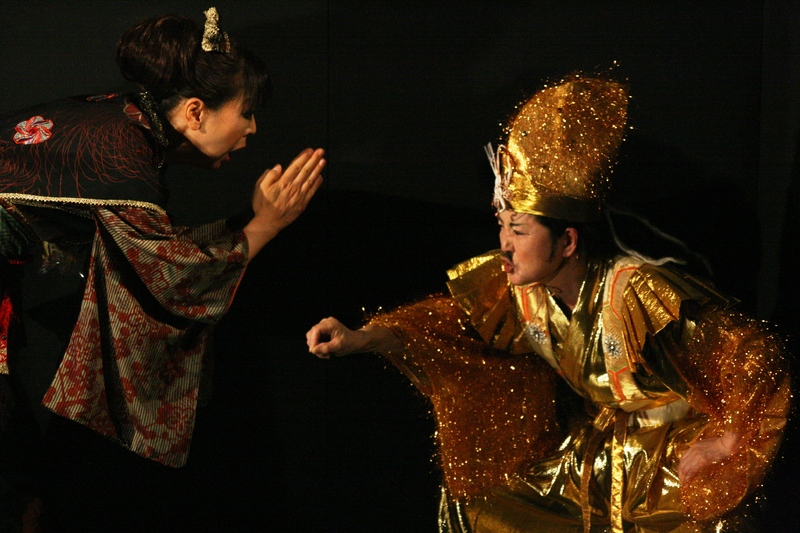 Malvolio's Yellow Stockings Transformed
In contrast, the in-text costume cues provided directorial challenges. Director Show Ryuzanji transforms Malvolio's (Aya Meguro) yellow stockings into a particularly ostentatious gold crown and a gold loincloth, though the cultural significance was never quite explained.

Ari Miyagawa and Emi Takemura's choreography accentuated the Japanese aesthetic with movement. In the production's best musical scene, the cast, meticulously arranged in tight rows, synchronously pivots around the stage with military precision in clockwise and counterclockwise fashion. In another memorable moment, Malvolio (Marui Sandayu), falsely accused of madness, executes sumo-style movements as he prays from his cell. The ceremonious lumbering does not temper the tenderness of Malvolio's romantic confession. In fact, the purification ritual underlying the movements of this popular sport intensifies Malvolio's vulnerability in this scene.
Kimonos Worn Onstage
Decoding Shakespeare through a transnational lense, Ryuzanji embraces themes of translation. The surtitles functioned sometimes as English-as-an-additional-language translations, but also sometimes as metatheatrical cues. Cesario's soliloquies, for example, were not translated on screen, but rather, were framed as another indulgent "monologue." Similarly, anachronistic allusions to Western pop icons (such as Avril Lavigne) and local toponyms (such as The Empress) flattered and delighted the local Fringe audience. Paralleling Baz Luhrmann, the musical segments integral to Kabuki theatre provided playful intercultural and intergenerational accessions to the script.
As digital editors of Shakespeare, we perceived the metatheatrical moments as opening and closing tags. Like the metadata we use to render, interpret, and display Shakespeare's works, Ryuzanji uses translation and inversion as devices to subvert theatrical conventions, such as surtitles, to explore cultural codes, such as gender performativity. These moments occupy a dual position in the performance: they express formal elements intrinsic to the text (and the stage), yet they also contain meaning independent from it.
In a play so conscious of its own playfulness, this witty and insightful adaptation of Twelfth Night promises to get you laughing–and thinking.
(This review is co-authored by Assistant Coordinating Editor Dr. Janelle Jenstad and Research Assistants Telka Duxbury and Quinn MacDonald)
03:10:51 pm. Categories:
Stage Performances
Staging emotion in Shakespeare
In Much Ado About Nothing, Claudio asks the ever-ironical Benedick whether he approves of the young daughter of their host, Hero. Benedick replies:
Do you question me as an honest man should do, for my simple true judgement, or would you have me speak after my custom, as being a professed tyrant to their sex? (TLN 163-5)
When Claudio earnestly pleads for him to "speak in sober judgement," Benedick's response is the opposite of sober – scornful, witty, and ironical.
Claudio's predicament is very like us all as we read so much of Shakespeare. Even my modest attempt to give life to the interchange – describing Claudio as "earnest" – provided more than the original text.
In this current age of happy :), sad :(, and other helpful emoticons, the paucity and taciturnity of the stage directions in Shakespeare's texts must be frustrating, at least to some of our readers. Scenes can begin with a laconic entrance and end with an equally undescriptive exit, with no indication between of any emotion in the speakers, or stage business. Perhaps we should encourage our editors to be more helpful and expressive ;).
The software we use for this Chronicle does not allow us to insert the more graphic little emoticon images, as many blogs do – including Facebook. There is a whole vocabulary of emoticons available to the savvy modern blogger that could be exploited by editors. Stage directions already include "kiss :*" and "cry :'(" (though this emotion is usually signaled in the text by "weeps"), but imagine the additional information the editor could pass on with emoticons like "gasp, grin, wink, grumpy, upset, confused, unsure, shock," or "heart." "Sunglasses" might be very useful for characters in disguise, especially since it can also mean "cool."
A performance of Shakespeare is really a kind of reading of the play with all kinds of built-in emoticons provided by the actors as they strut and fret on the stage, and mouth their lines to us groundlings. But on the page the lines tell us so little about what is really going on. There are some obvious pointers, to be sure. When Cordelia tells her father "You must not kneel," we know that Lear is trying to kneel to ask her forgiveness. And there are occasionally some really helpful stage directions. When Cleopatra hears the news that Antony has married Octavia, she is clearly angry >:(.
Hence horrible villain, or I'll spurn thine eyes
Like balls before me: I'll unhair thy head . . . (TLN 1105-6)
– but we would not know how she expresses this emotion without the direction, "She hales him up and down" (TLN 1106.1).
Think how a similarly helpful editor could assist the reader in some of Shakespeare's more famous passages. It's pretty easy to figure out that Hamlet is puzzled as he asks himself the big question about the usefulness of life, but later in the speech there could be some really helpful editorial insertions (the emoticons are enclosed in single quotes to assist those of us who are less familiar with them):
To die, to sleep ':)'–
No more–and by a sleep to say we end
The heartache ':(' and the thousand natural shocks
That flesh is heir to; 'tis a consummation
Devoutly to be wished. To die, to sleep;
To sleep, perchance to dream ':O'. Ay, there's the rub '>:(',
For in that sleep of death what dreams may come :/
When we have shuffled off this mortal coil
Must give us pause 'o.O'.
Soft you now,
The fair Ophelia!–Nymph 'O:)', in thy orisons
Be all my sins remembered ';)'.
(Hamlet TLN 1714-22, 42-44)
Key (for the uninitiated):
:) happy
:( sad
:O gasp
>:( grumpy or angry
:/ unsure
o.O upset
O:) angel
;) wink
That last wink clears up a major character crux in the play, since it makes it clear that Hamlet and Ophelia have indeed done the deed of darkness together.
So many of Shakespeare's characters indulge in irony that it's sometimes difficult to be sure when they are serious. Perhaps we need a further symbol, a kind of ironicon, in the text. Keith Houston, in The New Statesman, recently wrote fascinatingly about the attempt, since the seventeenth century, to create a punctuation mark that would be used to indicate irony (http://www.newstatesman.com/2013/10/rain-your-wedding-day, 24 October 2013). None of the attempts have thus succeeded, apart from the rather ambiguous wink ;). As Houston remarks, can a reader ever be sure that an irony mark is not being used ironically?
Ah well, perhaps it's for the best that the Internet Shakespeare Editions leaves the question of the extent of editorially added stage directions to the capable hands of our editors. We do ask them to be restrained, and to leave the hard work of figuring out what characters are feeling to the reader. And we provide them with a useful way of signaling instances where they have chosen one option among many, by displaying the stage direction (or part of it) in gray. Asides are especially tricky, since few are recorded in the original texts, and it can make a major difference to a character and a scene if passages are spoken to all onstage, or just to the audience. Our editors of Twelfth Night have used this convention very effectively – see their stage directions in the interchange between Maria and Sir Andrew Aguecheek (TLN 170). Perhaps this approach provides something of a happy compromise between leaving readers to create their own performances in the theater of the mind, and helping them to follow the intricacies of the text.
[You will find a handy list of emoticons available from the ever-helpful Wikipedia here: http://en.wikipedia.org/wiki/List_of_emoticons, and this link lists and illustrates common Facebook emoticons.]
– Michael Best, Coordinating Editor
01:01:51 pm. Categories:
Postings
Annapolis Shakespeare creates a niche in the American Northeasst
It has to be difficult for all the smaller Shakespeare Festivals in America to see the bulk of National Endowment for the Arts theatre funding, corporate sponsorships, foundation grants and other much-needed resources go to the same behemoth theatre companies year after year. While the Public Theatre's much-heralded Free Shakespeare in the Park captures National arts headlines with generally star-driven productions and Washington DC's Shakespeare Theatre Company gobbles up awards and government dollars, many theatres in the Northeast struggle to find audiences, actors, playing spaces and capital.
One ambitious company that has managed to quickly make a mark for itself with limited re-sources, a young, talented acting core, and a clever, creative design and production team is the emerging professional classical theatre, Annapolis Shakespeare Company. Founded by Sally Boyette-D'Angelo in 2010, the company is focused on "bold, re-imagined, entertaining and ac-cessible interpretations of Shakespeare and the classics."
The company's recent doo-wop, fancy-dancing MUCH ADO ABOUT NOTHING morphs the Bard's too oft demure battle of the sexes romance into an energetic, enthusiastic romp that takes full advantage of the company's youthful company. Chandish Nester's Beatrice offers a witty, stylish foil to Grayson Owen's funny, frenetic Benedict, and Alyssa Bouma's Hero is a charming eventual match for Michael Ryan Neely's cocky turned penitent Claudio. Best of all, these lovers can dance! Backed by a winning ensemble (including Alex Foley, Devion McArthur, Eric Porter, Rob McQuay, Peg Nichols, Ben Lauer, Tim Torre, Stephen Horst, Jonathan Jacobs, Chelsea Mayo, Kimberlee Wolfson, Deryl Davis, Hunter Kane, Clifford Jamieson, Eli Stiewing, and Miranda Savage), this acting company plays together as well as any Shakespeare company in America (including more financially endowed members of the prestigious League of Resident Theatres and Theatre Communications Group).
Artistic Director Sally Boyett-D'Angelo's direction is crisp, fast-paced, and crowd-pleasingly flamboyant, Ken Skrzesz's choreography is playful, silly and perfect for this 1950s farce and Paul E. Hope's fight choreography adds panache to the boisterous proceedings. In the world of the Hotel Messina, where a juke box takes center stage; snazzy costumes and LED lights provide razzle-dazzle; and jagged crystal-looking palm fronds frame the entire madness, special recogni-tion must be given to Scenic Designer Steven Royal, Lighting Designer Brian Allard, Costume Designer Maggie Cason and Technical Director Jeffrey Harrison.
One of the joys of working with the world's only publication created by and for producing Shakespeare companies (Shakespeare Theatre Association's quarto) is that I've been able to visit many American and international companies for over 20+ years as an editor and writer. Like so many of America's 200+ Shakespeare Festivals, the Annapolis Shakespeare Company produces for the pure joy of tackling the classics, entertaining audiences, and offering opportunities for a core of collaborative artists to pursue their passions. These wonderful companies contribute to economic development, industrial recruiting, travel and tourism, and the overall quality of life of a city. They deserve the support of their communities and the attention of corporate, foundation, government and individual donors. This production of MUCH ADO ABOUT NOTHING is a great reminder that exciting performances are often found in the smallest professional venues and that much ado can indeed be created out of streamlined resources.
Jim Volz, Editor, Shakespeare Theatre Association's quarto
 Professor, Theatre, California State University, Fullerton
[Dr. Jim Volz is a member of the American Theatre Critics Association, former CEO/Managing Director of the Alabama Shakespeare Festival, and the author of seven books, including HOW TO RUN A THEATRE (Methuen Drama/2011), WORKING IN AMERICAN THEATRE (Methuen Drama/2011), and SHAKESPEARE NEVER SLEPT HERE. He has produced over 100 professional productions, consulted for over 100 theatres and professional arts groups, and written over 100 articles for publication in newspapers, magazines, books and journals. He may be reached at jvolz@fullerton.edu]
08:56:51 am. Categories:
Stage Performances
A Perfect Fit: Greater Victoria Shakespeare Society's Measure for Measure
As an English Lit student, I have experienced most of Shakespeare's plays primarily as a reader, paying perhaps too much attention to individual words, and ignoring stage directions altogether. I actually haven't read Measure for Measure, so it was a nice change to experience the play first as a viewer, especially when it was so well done.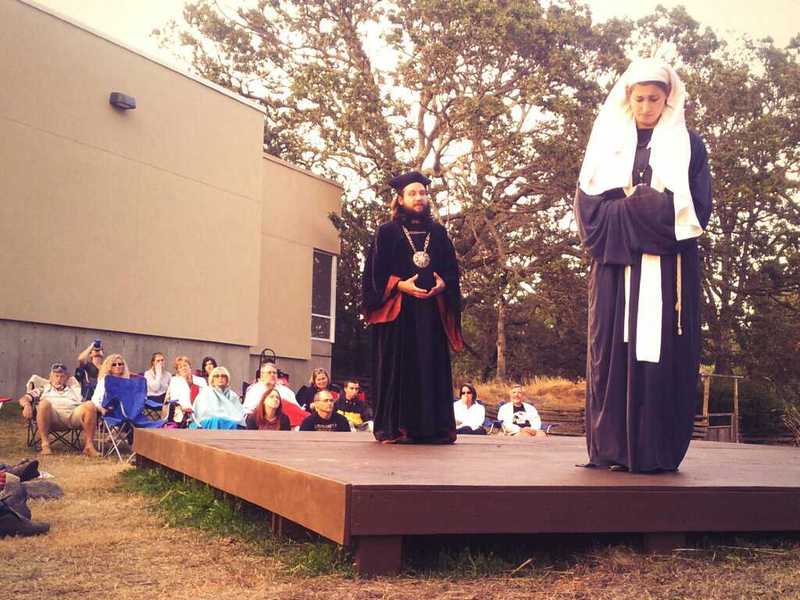 Greater Victoria Shakespeare Festival (GVSF) is just finishing up their 10th season, and their experience showed with this polished production. The open-air setting and simple, slightly elevated stage meant every chair and blanket spot felt up-close and personal, with actors entering and exiting the stage via lanes that cut through the audience. A small rocky outcrop behind the stage made up the set design, while Camosun College's beautiful grounds and Garry oak trees provided a refreshing backdrop. The casual atmosphere changed slightly in the second half, as gathering darkness heightened the drama and bright lights brought the actors into sharper focus, complimenting the play's themes of accusation and sin.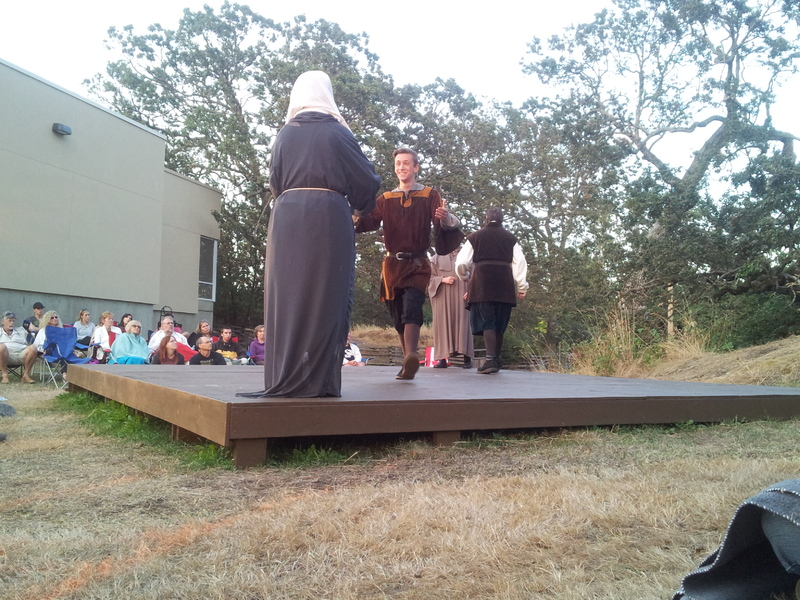 The acting was quite strong. Ariel Slack played a perfectly dramatic Isabella, covering her character's emotional range without ever becoming shrill. However at times I was unable to hear her, particularly during her pleading, because it took place at the opposite end of the stage, facing away from me. My companion thought Julian Cervello's Angello should have been a little more evil, but I disagree. To me, he seemed like a playground bully's sidekick, all grown up but still bitter from past slights, who has accidentally found himself in a position of power—hard to take serious, yet all the more distressing because he was being taken so seriously. This also provided a strong contrast with Justin Guthrie's eloquent and firm Duke Vincentio.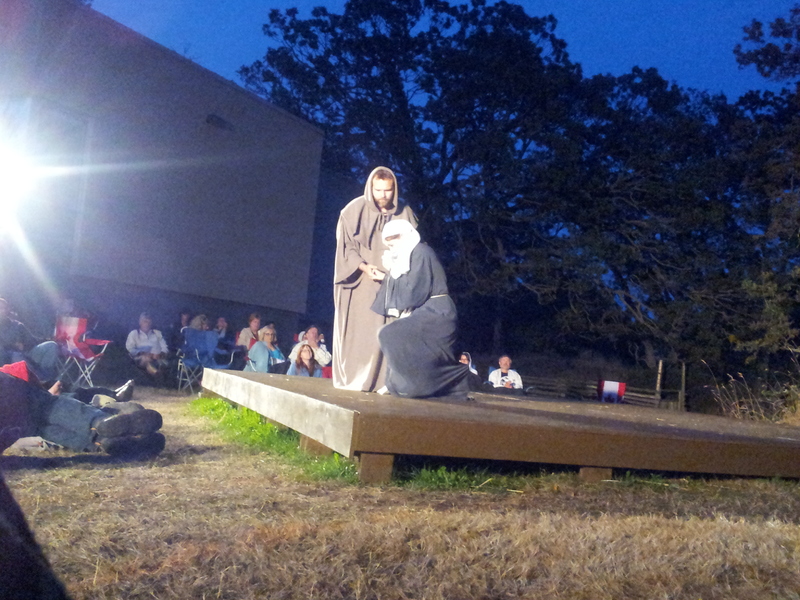 I also really enjoyed Blair Moro's Lucio. His part could be easily overdone, but he kept it in check and let the Bard's humour speak through him. His delivery method actually kind of reminded me of Jonah Hill, although I'm not sure if Moro would find that a compliment. Michael Bell (Claudio) has been acting in Victoria for five years, and it shows. His confidence and youthful appearance (complete with Macklemore haircut) worked to his role's advantage, but his sharp delivery and constantly furrowed brow were at times almost too much for such a casual environment. The pared-down set put extra focus on the actors, and their success reflects highly on Clayton Jevne's direction and Rowan Hebert's stage management.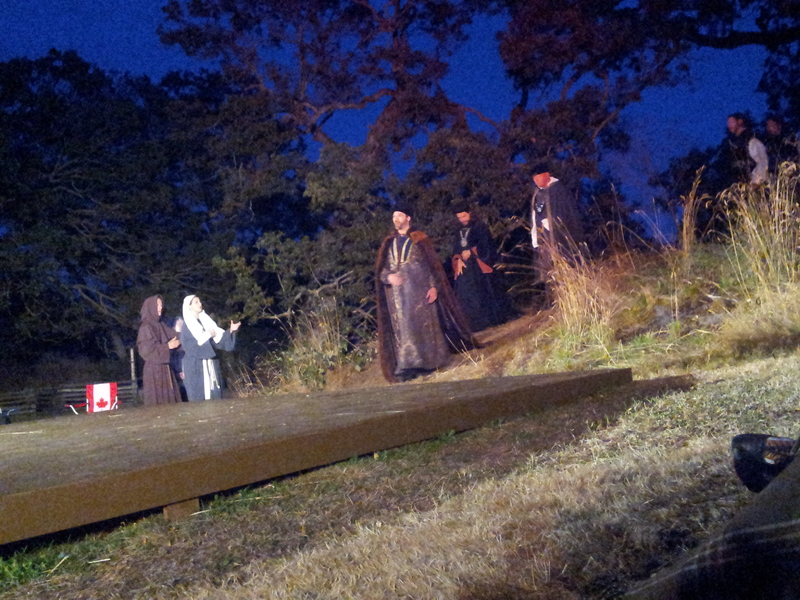 Before the play began, a spokesperson acknowledged that it was to take place on land that is the traditional territory of the Lkwungen, Esquimalt, and W̱SÁNEĆ peoples. (The University of Victoria campus, from which I write this review, rests on the unceded land of the Lkwungen and WSÁNEĆ Coast Salish Territories.) At many of the events I have attended lately, both scholarly and otherwise, territory acknowledgement has often felt rote and recycled. But GVSF seems to have thought slightly more about what that acknowledgement means and how to work it into their practice, and for this I commend them. Measure for Measure takes place on "The Camus Stage," which the program explains comes from the camas bulb, while "Camosun" (or "place for gathering camas") was a name for the area that is now downtown Victoria. Additionally, Camosun's Na'tsa'maht Gathering Place provides the venue for GVSF's other production, The Merry Wives of Windsor ("Na'tsa'maht" is a Salish phrase that means "working together as one"), with the program providing information about the history of its architectural design.
Overall it was a lovely way to spend a summer evening. They only have three shows left, but if you find yourself free this weekend, I highly recommend you grab a lawn chair and head over.
02:24:59 pm. Categories:
Stage Performances
An unexpected error has occured!
If this error persits, please report it to the administrator.
Additional information about this error:
Requested User does not exist!